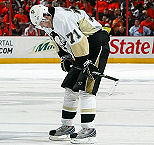 Win as a team, lose as a team.  Hockey is very often a game of mistakes and today the Penguins made their fair share.   Just as we want to praise Fleury when he leads us to a victory, Sunday afternoon he led us to defeat.  Yes, others had a hand in the loss.  A review of the Flyer goals —
Goal #1  Guerin loses his man at the blue line and Carter walks in alone.  Carter makes a nice move to score.
Goal #2  A power play goal by the Flyers.  First of many awful decisions by the referees.  Staal gets raked across the face twice and somehow gets called for holding.  Richards scores a goal between Fleury's legs, one he should have stopped. 
Goal #3  This one was the killer.  Pens had the game even at 2 and couldn't ride the wave.  Fleury lets a terrible rebound loose, and for one of the few times Staal forgets his responsibility and leaves Geroux alone in front. 
Goal #4  A short hander by Gagne.  A power play here and the Pens are back even.  Instead Gonchar misplays the puck behind Fleury and Guerin leaves Gagne alone in front.  Three Penguins and two Flyers near the goal and they leave Gagne open. 
Goal #5  A fourth line goal for the Flyers.  Fleury had a chance to cover the puck early in the sequence and didn't.  Then he didn't get over quick enough to get into position to stop the shot. 
Goal #6  The empty-netter.  Just icing on the cake for the Flyers. 
Final tallies — Gonchar and Staal each -3. 
As time ran down at the end of the game I was hoping the Pens wouldn't do anything stupid like the Flyers did at the end of game one.  They don't.  They just skate the puck around in their own end and with three seconds left, Aaron Ashem cheap shots Letang and went laughing to the Flyer bench.  That will be their last laugh.  The Pens still lead the series 2-1, and I believe they will still win it in five.  This loss just gives the home fans the chance to watch the handshakes on home ice Thursday night.
That's the view from E-11.