The Penguins bags were packed and headed for Boston, but Eric Staal and the Hurricanes had other ideas.  How would you like to be a New Jersey Devils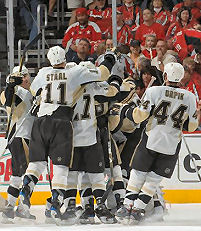 fan today?  King Martin Brodeur let in two goals in the final 1min30sec and the Eastern semis were set.  Carolina at Boston and Pittsburgh at Washington.  Ron Cook called the Penguins vs. Capitals series the sexiest match-up.  I don't like Ron Cook even using that word, but what a match-up it is!!  We know the history of this rivalry. 
Let's take a look into the future.  Two outstanding hockey teams – well-coached, superstars, youth, veterans, speed, offensive defensemen, shut-down defensemen, depth.  This would certainly have the look of a long series.  So where might the edge be that could determine the outcome of the series?  As is the case so many time in the playoffs – goaltending.  The Capitals had to change goalies early in the Rangers series from Theodore to Varlamov.  It worked against the Rangers.  Keep in mind, the Rangers had trouble scoring goals in practice this year.  I don't believe that Varlamov will be able to shut the Penguins down like he did the Rangers.  If the Pens get as many scoring chances as the Rangers did, they will certainly put up some numbers against the Capitals.  The Penguins have Marc Andre Fleury.  He did have a few tough moments against the Flyers, but when the game was on the line, a toe, a glove, a pad – something was there to preserve victory for the Pens.  The Capitals may have to go back to Theodore in this series.  If they do, it will get worse for them.  Penguins in 6. 
That's the view from E-11.