The first of these match-up series was US against the Capitals. But, if everything ended today we'd be matched-up against the New Jersey Devils. So what can we expect with that?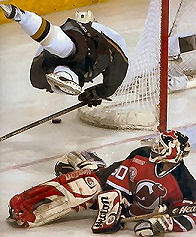 With Martin Brodeur back in net the Devils haven't lost a stroke. Who would have ever thought we'd ever have said that, eh. But, let's face it… Scott Clemmensen performed pretty damn well with Brodeur out injured or out prepping for that $500k five-hole decision divorce case based around his wife's sister. An initial hit of $9 million plus $500k a year (for 20 years) with an additional $132k a year for child support until 2024 can not only lay heavy on one's mind but also on chants coming from the often wicked fans who show no mercy. Let's not be the ones that start a "Melanie – Melanie –Melanie" chant, eh.
While on Brodeur, all kidding aside, he is "the key" … Brodeur is a legend and is usually able to cover for any gaps in their defense. On top of that the winningest goalie probably wants to put an exclamation point on the most wins by adding his 4th Stanley Cup. So, his play remains the big key.
I mention the gaps in the defense and there are gaps which is unusual for Devil's team but their defense is considered to be their main weakness. Paul Martin is one of the games quality defensemen but they just don't dominate there like in the past and Lou Lamoriello has tried to upgrade a group that makes to many mistakes in their own end.
Martin is underrated, logs a ton of ice time and is used in every situation. He is another key on the team because outside of 'Marty' the defense is mostly supporting type players such as Johnny Oduya, Colin White, Bryce Salvador, and Niclas Havelid. That lack of an IMPACT defensemen I think is their biggest weakness but can be covered by a HOT Brodeur… as long as he can keep his mind off his sister-in-law's 5-hole.
The Devil's offense is pretty exciting… and you don't hear that too often in Devil's history. Patrik Elias has come back to life and is a proven player player. Zack Parise is everything they hoped for and more. He was thought to be a playmaker but has developed into a legit superstar and has sniper-like qualities… a threat whenever he's on the ice. Travis Zajac is the playmaker who like Parise came though the North Dakota Fighting Sioux.
In terms of depth, New Jersey's forwards are as deep as any other team in the EAST and have some old retreads veterans such as Bobby Holik, John Madden, Brian Rolston, and Brendan Shanahan who understand and accept their roles.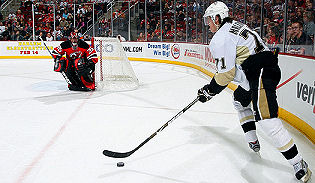 Brodeur would probably like to play the Canadiens and the management would like that or the NY Rangers who we'd all like. Right now, if it ended today they'd play us and I think either the Penguins and/or Hurricanes would be the Devils biggest hurtle.
What the Devils have is their flexibility to play run and gun or just smother teams with a snoozing trap. As I have said before… I don't care who we play because no matter what you have to win 16 games someway, somehow. I think any of the top 6 teams can go toe to toe against each other and survive to play another day. The Devil's I don't think fear anyone but then again neither do the Pens.
This is DR Hook… carry on.