Is?he playing too many games? Fleury has been letting in way too many soft-goals as of late. He's made up for it by his totally unreal saves that most goalies couldn't dream of making – but those softies just aren?t good.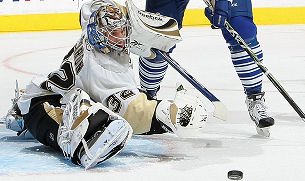 Coach DAN is now caught in the middle by needing wins and needing to rest Fleury. What to do? Well, recognizing that hindsight is always 20/20 it appears that Garon should have been in the net for yesterday's matinee. Possibly Coach DAN'S decision should have been the other way around, that is, Garon against Ottawa and Fleury against the Bruins. But it wasn't.
In a previous post it was suggested that Coach Dan played our core players (stars) too many minutes against the Flyers and that's why they looked tired against the Capitals after the train ride. Then there is also the powder-puff blue sweaters that catches the?blamed. LOL. It?s neither.
The Pens yesterday had yet another PP meltdown and then to add more woe ? also looked to be going through the motions with the 3-1 lead. Yeo and the coaching staff are grasping at straws to fix the PP. What's Malkin doing playing the left point when most everyone knows he's useless over there. It was like watching?MARIO playing on the RW on PP's… it just seldom, if ever, worked very well. There is no excuse for all the Penguin fire power to be so hopelessly inept on the PP.
Back to the goalies… yesterday Boston made the same decision as the Pens – they played the weaker team (Boston the NYIslanders and the Pens Ottawa) and yet Claude Julien selects Thomas over Fernandez and Coach DAN tabs Fleury over Garon. You might conclude by those choices that neither coach has faith in either of Fernandez or Garon.
To complicate the decision-making even more (especially since I suggested that Fleury maybe needs rested)… if both coaches started their #1 goaltenders against the weaker of the two opponents the opposite side of this quandary is shouldn't they both be in net in the next 4 hours?
Only the SHADOW knows what these coaches are thinking.
I sure as hell don't… it's Garon in net.
Go Pens.
This is DR Hook… carry on