On Wednesday the NHL announced the three finalists for the Hart Trophy, which is given to the player who is most value to his team, Evgeni Malkin, Alexander Ovechkin and Pavel Datsyuk. I don't want to offend every Detroit Red Wing fan out there (or maybe I do), but this is a two horse race and Datsyuk, as great as a year as he had, is not on the track.
The voting for the Hart Trophy is done by the members of the Professional Hockey Writers' Association (PHWA) and all voting is completed and had to be submitted before the first game of the playoffs.
Here are the biggest 7.1 reasons why Evgeni Malkin deserves the MVP not Alexander Ovechkin.
Reason #7 – Evgeni Malkin scored more points this year than Alexander Ovechkin has ever scored in an NHL season.
Reason #6 – Evgeni Malkin led the league in assists, the true sign of a team player. Alexander Ovechkin who is quite possibly the most selfish player in the league finished tied for 10th in assists even though he was number one in the league in time played per game as a forward. The typical Alexander Ovechkin assist is a shot on goal by Ovechkin then another player gets the rebound and puts it in. Here is an Ovechkin assist he had on a game winning goal: "click here: Typical Ovechkin rebound assist"
Reason #5 – Evgeni Malkin's shooting percentage was higher than Ovechkin's. Malkin if he wanted to be selfish, easily could have had as many shots as the league leader in shots Ovechkin did. If Malkin was stingy and shot as many shots as Ovechkin did, with Malkin's shooting percentage, he would have had 64 goals.
Reason #4 – On top of Ovechkin's selfish league leading shots (528) is Alexander Ovechkin's league leading missed shots 220 + throw in 32 shots blocked and Ovechkin's attempted shot total is 780. I only caught a few Capital games this year, but did Ovechkin ever pass the puck or were all his assists on rebounds?
Reason #3 – Evgeni Malkin's +/- was over twice as good as Ovechkin's, plus Malkin had twice as many short handed goals.  Malkin was a way better defensive player this season than Ovechkin.
Reason #2 – You can clearly see that Ovechkin had 6 more game winning goals than Malkin. Here's a stat you won't find anywhere else: Being the team player that Malkin is, Malkin had 8 more game winning assists than Ovechkin which puts Malkin up by 2.
Reason #1 – Evgeni Malkin led the league in takeaways. This is a scoring leader who also led the league in takeaways. Any guesses on who had more giveaways than any other player in the league. If you guessed Alexander Ovechkin, give yourself a gold star.
Reason #.1 – In Pittsburgh we know a Hart trophy winner when we see one play. We have had 1/4 of the Hart Trophy winners in the last 20 years.
I've heard the "with Sidney Crosby on the team, how can Malkin be MVP talk." Keep in mind that this year, before he was injured, Alexander Semin was leading the league in scoring and finished 6th in the league in points per game, Crosby was fifth with only one tenth of a point separating them.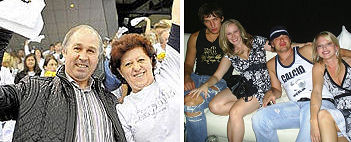 When you look at the pictures all over the internet of Ovechkin half plastered in clubs dancing and singing karaoke and you see Malkin with his family coming to the games all the way from Russia. When you look at the AO on ice antics which are very similar to TO's (Terrell Owens) antics,  and when you look at Malkin's Michael Jordan personality compared to Ovechkin's Denis Rodman personality you have to wonder if the Ovechkin basket is the basket that the NHL wants to put all of their eggs in.
Evgeni Malkin had more spectacular plays this year than Ovechkin and probably only got half the airtime because he didn't become a circus clown after each one. Look at all of the hype for Saturdays match up between the Penguins and Capitals, it is all Crosby vs. Ovechkin. Malkin was the top scorer regular season and is now the top scorer in the playoffs and is barely mentioned. 
Barry Melrose said on ESPN that Ovechkin should win the MVP because he is the face of the NHL. Proving that the Hart Trophy is truly a popularity contest. Is it possible to give the award for most valuable to his team to the player who will not pass to the other players on his team, the most selfish player in hockey, Alexander Ovechkin?
If the Hart Trophy truly went to the player most valuable to his team, it would go to Steve Mason of the Columbus Blue Jackets,  but when given the choice of these two, the obvious selection is Evgeni Malkin.