Your gonna have to take my word for it that I'm happy as a peach that the new season starts this evening. Last season was one hell of a ride and I look forward to the same this season, which is part of the problem, which is why I'm going to start this season like Festivus and air out my grievances.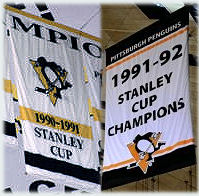 The number one grievance I have is that while attending a preseason game I happened to look up and notice that the two previous Stanley cup banners were gone and replaced by knock off banners that are completely different. I was at the games the first two times they raised the banners and for them to change them the last season in the igloo is ridiculous. The banners have a history not only to the fans that were at the games when they were raised but to the players that played on the great Stanley cup teams. I heard they wanted the banners all to match. If that is true then why have I been staring at the stupid pigeon Penguin conference championship banners in the rafters for years? Whoever decided to do this probably hasn't been  with the Penguins organization long and is unaware of tradition.  Are the old banners in Mario's basement?
Number two grievance, is that Chris Conner didn't make the club. I thought he had a fantastic preseason and thought that his tenacity was that of Tyler Kennedy's and would make a great 3rd-4th liner. Maybe they are just trying to get him to work in Bylsma's system a little longer until they bring him up.
My last grievance is that once again like in the early nineties I find myself expecting the Penguins to win every game and go on to win the cup. Anything less would be a let down. There is no upside to the season. If I go into every game expecting a win, then I have nowhere to go but down. The Stanley Cup party is over! My grievances are over!  It's time to watch the feats of strength!  Let's go Pens!