Wow, was that a fun game to watch last night, end to end hustling, looked like a whole new Penguin team.? Bylsma had the team running on all cylanders, except for maybe Fluery who in my opinion left in a couple he shouldn't have, that's not to say he didn't make a lot of great saves.? If we are going to come away with anything from this weekend, we are going to have to have some better goaltending, better than what we saw last night.?
This weekend we are playing back to back games against Philly & Washington.? What I saw from last nights game was a lot of extremely tired players at the end of the game.?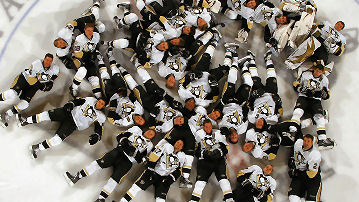 There was one point with about 4 minutes left when Crosby & Dupuis were?dead tired,?so tired?they couldn't?skate to the puck about 10 feet away in the offensive zone.? They proceeded to make their way to the bench as fast as they could.? ?Is it possible for the team to keep up this pace two games in a row against two of our biggest rivals?? I'm not sure the Pens are in good enough shape.
A good idea since we will be playing to close to Wilkes/Barre would be to bring a couple players up and have a few extra fresh for Sundays game.? The problem is that?the Baby Pens?are playing a double header this weekend also.? It sure would be nice if Bylsma would bring up Bissonnette for the Flyers game, he seemed to have a field day last time.?? He will also need to use all four lines evenly.
I hoping Bylsma isn't sentimental about the Baby Penguins and is?able to pillage & plunder them for the good of the main team.? There really should only be one concern, and that is making the playoffs for the main team