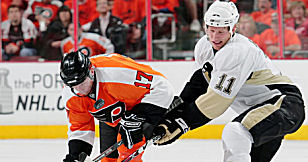 Let's hope this series does not make it to the sixth game.  As we have come to know, the Pens do not, typically, fair well in these matinee games.  This afternoon's match was no different.  Game 6 is slated to be another afternoon game.  Here is to hoping that it does not get to that point.
 The Penguins looked as though they, maybe, didn't have the same intensity as they had shown in the previous two games.  They were not getting to the loose pucks the same as they had been.  They didn't win battles like they need to.  After taking the physical edge in the first two games, the Pens were out hit, outfought and over all outworked.
Now, it's not time to worry.  I, for one, knew that the Penguins would not win every game on their way to winning the cup.  At some point the Pens had to lose.  This seems as good as anytime to lose.  Let's just see how they bounce back.  The good news is that we gain an additional home game.