Wow, what can you say?  Another fantastic game.  So far, this series has exceeded all of the expectations.  The league has to be incredibly satisfied with match up.  The Pittsburgh Penguins win a great one, 3-2 in overtime.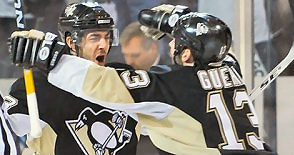 It took and extra period to settle this one, but our Pittsburgh Penguins came out victorious.  This, much like the others, had the Pens dominating the game most of the time.  The Pens had 42 shots on goal to Washington's 23.  There were many, many good scoring opportunities.  Varlamov was again awesome.  This kid really is amazing.  If it were not for him, the series would be drastically different.  
The game started on an ominous note with Fleury misplaying a puck behind the net that bounced back in front and right to…..who else……Alexander Ovechkin.  He, of course, did not miss the open net.  The Caps were up 1-0 in a hurry.  It seemed to take the Pens half of the period to get out of shock.  Once they got going, it was something to see.  The Pens were putting pressure on almost non-stop.  They were physical and very determined on the forecheck.  
I don't know how much the line changes affected everything, but something inspired the team tonight.  If they had finished some of the fantastic opportunities they did have, the score would have been lopsided.

 People, was everyone happy with Malkin's performance tonight?  That  was as amazing and individual performance as I have seen in a long  time.  I hope that shuts all the "where's Malkin" people.  
 It was great to see some other guys on the scoresheet.  Malkin had one, Fedotenko had one and Letang got on the board.  It was nice to see some other guys finally chipping in.  Although Letang had a goal and an assist, I was disappointed at his passing up numerous chances to one-time some shots.  I think this kid has unlimited potential.  He just needs to develop the confidence to unleash his talents.
Before the game, Savran on Sportsbeat did a story about Crosby working on his faceoffs.  Kind of funny that is was a clean win on a faceoff that led to Letang's goal in overtime.  Overall, Crosby was not very good on the draws today, but when it counted, he got it done.
Notes:
How about Ovechkin trying to hit Orpik with about ten strides behind him.  After flipping through the air and landing on his neck, it seemed maybe that AO got the worst of it.
Other than the mistake at the beginning of the game, Fleury was solid.  He did not need to be spectacular tonight.  The two goals were sort of fluky.  The second goal was a shot from no angle that Backstrom banked off of Fleury.  It was a nice play by Backstrom but still a fluke.
I thought everyone played with a ton of energy.  I hope they can come out Friday with that same intensity.
Ovechkin seemed to be far less of a factor than the previous games.  Good work by the defense.  I would still like to see the defense challenge guys more aggressively as they enter the Pens zone.
This was an awesome game.  It was as exciting as anyone could want.  Here is to a great series and to Pens taking care of business at home.