… he's not third, either.? Sure, he's got the hardware from last season and may win some of it again this season BUT he's not the all around hockey player of either Crosby, Malkin… actually I'd put him behind others too… such as Paval Datsyk, Jerome Iginla to name just two.
The Great8, AO, OV whatever you want to call him is a tremendously talented individual and watching him skate up ice trying to beat the buzzer on Sunday… that tremendous ? individual ? talent? really stands out.
The key word being individual. His speed and shooting the puck is carrying him at present but if you notice he plays all over the place so much so he's more a ROVER than a left wing. Crosby, Malkin, Datsyk, and Iginla are much more cerebral two-way hockey players and therefore much more valuable to their teams. Whereas, Ovechkin's game is centered on skating fast and concentrating on shooting the puck as many times as you can.? The number off shots "on-goal" is amazing but also as amazing is the number of his shots that miss the goal and many times shot at such an angle and force that the puck needs to be fetched from their own end and?stymies a ton of?offense pressure.
He has to be doing what his coaches are asking.. right?? Or,?is he is above that?? Ovechkin is the NHL's most dramatic performer and wildly entertaining but other than skating as fast as he can and shooting the puck whenever as many times as he can… there is not much thinking to his game.
Allowing him to do that didn't come as easy as it appears because the Capitals GM- George McPhee, Coach-Glen Hanlon, along with the (player) leader of the team-?Olaf Kolzig leaked a story that later became the subject of a?feature story in the Washington Post (paraphasing here) claiming Ovechkin cheated up ice, and didn't play with enough grit, and needed to be more of a team player.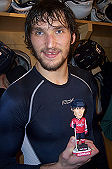 Well, anyone who watches the game has to see that he's back to cheating up ice.? Not to the extent of the way Pavel Bure did it?but he has begun to leave earlier and earlier.? It's getting more noticeable every game.
If you watch Ovechkin and watch him closely you'll see that he's not as hockey bright as many give him credit. He as fast skater who shoots constantly and (I'd take him on my team) but it could be the reason why the "C" isn't on his sweater. He really doesn't appear to be as bright (or as mature) as the other forwards mentioned above.? I could be wrong about this but that what I see.
This is DR Hook… carry on