Bill Guerin, from his interview on the PENS WOOHOO Train                               (Click here: Guerin BEST TEAM ) says this year's Pens are the best offensive team he's played for in his entire career…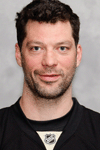 "Sid and Geno bring their talent level and they make everybody else better. They make everybody else's talent level go up, as well. That's just what they do for us; they make everybody around them better."
Not that it's real big news… the Flyers saw it starting last season and puked watching it first-hand up close again this season. The Capitals got a tatse of it – and if you don't get it that blank stare, almost trance-like, in the Joe Corvo interview should tell the whole story from the Hurricanes POV. The PENS are downright…
scary right now.
It's never over until it's over… but Carolina Hurricanes just don't seem to be in the same league. Those Hurricanes also don't seem to measure-up to the Flyers, Capitals, nor the Bruins in talent and they appear to be wearing down a lot faster.  The Bruins had their chance this season and choked… the Flyers are always going to screw something up by trying to BUY a Stanley Cup and now are scrambling to dump their latest mistake, Daniel Briere.  The Capitals seemed to have the game-plan down but their
GM George McFUBAR screwed it up by bringing in too maby old over the hill losers and signed mult-year contract for big bucks. Plus, with the Capitals you can almost feel the TRADITION factor in post season play. 
 The Penguins are there folks.  Scary there.
To succeed this new NHL you have have to sign players for what "we like to call" the home town discount and then hit the jackpot with draft picks and have a good development system.  Then, you have to get awfully lucky too!
As the stars in the sky appear to be lining-up for that Red Wing rematch… what do we see but Maid-Marian Hossa (finally) getting some goals and
that was Ty Conklin getting goalie time in the third period. We want them to have their best goalie playing (Conklin) and to also have Maid-Marian Hossa at his finest when one of the greatest stories in hockey has a chance to unfold.
That story is, Maid-Marian turning down a five-year contract to go to a team that he announced was the quickest way to get his name on the Stanley Cup.  Was it?  Looks like we shall see.
Detroit has a solid GM, a good development system… but now are getting into what appears to be salary cap problems of their own.  They might not have enough in the bank to offer Hossa a contract he'd like.  We'll see how this all plays out in a few months.  Should get to be an even better story if he chokes and isn't offered a contract while the Penguin's parade that CUP around tahn.
I don't think their will ever be dynasty teams like the Oilers or Islanders anymore because of the salary cap.  The Canadiens were a dynasty but only when they controlled the draft and there were only (6) teams.
The word DYNASTY really shouldn't be used to describe the Penguins either… because as of right now they haven't won a thing.  But it's hard to flush that thought totally out of the back of your mind because Crosby and Malkin are still a few years away from their prime. So are Staal, Fluery, Talbot and Letang.  They are getting stronger, bigger and obviously much more experienced.
This year the supporting crew is Fedotenko, Geurin, Kunitz, and to some degree Sykora and Satan . . . but really it's the farm system and younger players being fed into the system.   
Ever since WB/S that farm keeps acquiring youth and developing it to fill the holes. Kunitz has a three-year contract so he'll most likely be along for the ride but, as usual, the Penguins have drafted/acquired forwards with solid skills. This is how you work to keep things going – they will have replacements "pretty cheap" for the next three years and they will have more of upside than Satan, Sykora, Geurin, Dupuis, and Fedotenko have right now.
Sitting in the bullpen (forwards) – ready to get their shot are players such as Luca Cuputi, Nathan Moon, Eric Tangradi, Casey Pierro-Zabotel, and Kevin Veillieux . . . all of these kids aren't destined for checking lines! They will be worked in – one, maybe two next season, two the next and the beat goes on. On defense there are Alex Goligoski, Brian Strait, Alex Grant, Ben Lovejoy, and Carl Sneep.  They keep coming… no wonder so many other teams get pissed-off. I don't blame them.
While most of our competition worries more about how to fix CAP MANAGEMENT that's gone wrong…  Ray Shero represents the new breed of  NHL GM  and understands exactly how it's supposed to be done.
None of this ever guarantees a Stanley Cup and in fact, it doesn't even guarantee we'll get out of this Carolina series. What it does do however is lay the solid foundation of GOOD hockey in the future based on the PLAN yer WORK & WORK yer PLAN philosophy. The entire management team seems to have thought all this out from top to bottom. Everyone, including the fans are all on the same page. As fans,  may argue nitpick a little bit about what we like or don't like but we all know that everyone really cares about one thing – puttin a product on the ice that is entertaining, works hard, and stands a good chance at the CUP.  Winning makes eveyone happy.
It doesn't get much better than this… does it.
This is DR Hook (waiting way too long between games)… carry on.