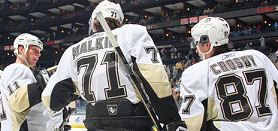 Three centers — three lines and an obscene number of shots on goal. If it wasn't for Vokoun's outstanding goaltending they might have called the game using the mercy rule. Fleury who had a little shaky 2nd period made up for that in the 3rd, the OT and put up another stonewall in the gimmick shootout.
But once again it's the picklestabbing Jordan Staal to the rescue… (Staal is going to end-up being the best draft pick in the SUPER 2006 Entry Draft Class that also included Jonathan Toews, Nicklas Backstrom, Erik Johnson, Phil Kessel to name a few). The Pens got the early 3rd period goal that they needed and the fans who had been watching a shooting gallery began to feel it. That puck ricocheted around the goal crease and the pinball wizard, picklestabbing Staal knocks the puck down and stabs it right passed Vokoun.? 3-2.
After seeing Malkin's backhand goal on a pass from Crosby you start to see why I said Malkin is the best player taken in the 2004 Entry Draft. He's the best in the NHL, right now. That goal was really perfect and with his Mom and Dad jumping up and down (they've become official Pittsburghers) you can see another we are family in the 'Burgh.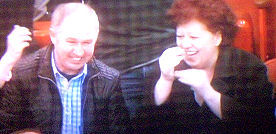 The IGLOO was as loud as what in was during the last year's playoffs… Vokoun?robs the picklestabbing Staal on the SAVE of the night… BILLY and THE KID connect on another (can you can feel the chemistry) on this K-UNITz  line… BILLY got his (400th assist) and his kids and wife in the IGLOO… I'm telling you – THIS IS FAMILY.  Malkin –  Crosby –  Staal – Fleury   this is the CORE folks. Strong up the middle.
Onto the gimmick shootout and it's Letang with a super move and Malkin absolutely brilliant as Vokoun will have to watch the tapes to see what actually happened. 4 – 3  someone call the COPS!
On to Columbus, please note it's a 7:00 starting time and pay attention to the tons of Penguin fans who will be at that game.
Who has more fun than Pen's fans!
This is DR Hook… carry on