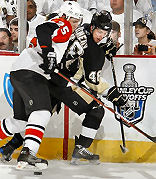 I must admit, I did not see this happening.  When I saw the Pens dominate every aspect of the first period.  This just reinforced my feeling that the series would be over in a couple of hours.  All of a sudden, the TV feed went black.  The next thing I knew, the game's tide had turned and now the Pens must try to win the series on Philadelphia ice. 
Martin Biron did to the Pens in the first period, what Fluery did to the Flyers in game

 4.  He stopped everything that the Pens through at him.  He was  definitely the difference in this game.  The Pens, unfortunately, did not  keep the same pace that they had set in the first period.  They seemed to  get a bit  demoralized by the outcome of the first period.  One has to give  credit to the Flyers again.  They withstood the early onslaught.  They kept at it and  persevered on their way to victory.
Notes:
 I said it after the last game, I don't like messing with the lines.  Put the lines back together and let the players do their thing.  These lines were working great, let them play through it.
The Pens took it to the Flyers physically again, but just could not get the puck past Biron.
The Pens did, mostly, play well.  Let's hope they can build off of that and put it to the Flyers Sunday in Philly.