Today, the Penguins were sporting their white, away jerseys for the home game against Boston. ?Apparently, Boston had requested the right to wear their black home jerseys for this afternoon's matchup with the Penguins. ?
It did not matter what uniform the Pens had on, they won. ?It was a very interesting game to watch. ?There was quite a bit of action, lots of goal scoring and some potential for things to get spirited. ?In the end, I was just glad the Pens did not set the NHL record for consecutive shootout games. ?They were currently at four, tying the record.
A few notes from the game: 1. Though I am glad the coaching staff finally made the decision to move Malkin up front on the powerplay, how did it take so long to make the move? ?How about the fact that it took no time at all to see results from the change. ?Gonch scored 5 seconds into the first powerplay that featured Malkin up front and Letang on the point.
2. ?The Pens played tough the entire game. ?A good effort from start to finish. ?
3. ?Garon looked like a guy who had only three appearances since January. ?Hopefully, the Penguins can get into a position where they can play Garon a few more times to knock the rust off before the playoffs.?
4. ?I really like how well the third line is playing. ?Tyler Kennedy looks like a new man out there. ?I think it was too much pressure for him to play on lines with Crosby or Malkin. ?He is playing relaxed with a ton of confidence now.
5. ?You have to admire hockey players. ?Chris Kunitz was given a goal that he did not actually deserve. ?It was his second goal of the game. ?He would later go on to score an apparent third goal, competing the hat trick. ?Being of the strong moral fiber that many or most hockey player are, Kunitz declined credit for the second goal. ?Could you see someone like T. O. turning down credit for anything in the same situation. ?A tip of the hat to Chris Kunitz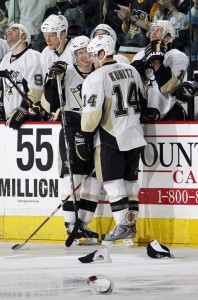 Here is to our boys continuing to play hard for the remainder.