If there were any die hard Michel Therrien fans out there, I'm sure their opinion swayed the second the clocked stopped in game 7 of the finals. That is of course not including his close family members.
There has always been one thing hanging over Dan Bylsma's head like plastic mistletoe and that is the question of whether it was him taking over as coach that turned the Penguins around or if it was the return of Sergei Gonchar which just so happened to be one game before.  Facts are facts and the fact that most people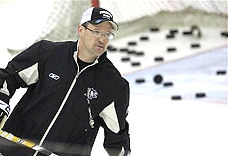 don't care if it was Gonchar returning or Bylsma taking over, all they care about is the fact that the team was in tenth place, five points out of a playoff spot, they made the playoffs and won the cup, enough said.
There is still that tiny little itching for the the truth, that tiny little presence in the back of our minds and probably Bylsma's mind.  Is it possible that Gonchar was what turned the team around? Is it possible Sergei Gonchar means that much to the team?  Gonchar getting injured will allow Bylsma to show his coaching ability and will hopefully allow you to erase the tiny last dangling dust particle of a question in the back of your mind, hopefully without erasing anything else important in there.
Gonchar missing a little bit more than a months worth of work has other implications also. Gonchar is 35 years old and in a contract year, making $5 million a year. If the Penguins are able to play well without Gonchar and Goligoski is able to take over the reigns on the power play the way it looks like he can, then Gonchar's resigning value to the Penguins will drop significantly, not only that but the Pens would be able to trade him and be able to sign a pretty good winger for $5 million. Do you keep Gonchar or sign a winger?
This up coming month will most likely determine the course Ray Shero and the Penguins take come playoff time. Whatever the course, be assured Bylsma will be at the helm, with or without the Gonchar question hanging over him.