"You moved the tombstones, but you left the bodies.." – Coach (Craig T. Nelson)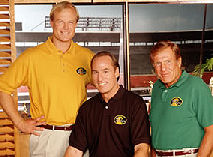 You got rid of the coach, yes indeed you did, but you've left the actual problems.? I've taken it upon myself to list the problems for you, so that if in the future instead of just?patching the problem, you would like to pro-actively get rid of the problem you can.? Though Bylsma may be the answer and he definitely has proved himself by winning a Calder Cup Championship, he is still a midseason knee-jerk replacement.
Mike Yeo:
This is a?inexperienced coach who has our power play running at 9.8% over the past 24 games, dead last in the league.?? 9.8% with two of the top?three scorers in the league on the powerplay is 100% not acceptable.? Yes we are missing Gonchar, Hossa, and if you must Malone from our power play from last year.? I don't? care, we still have Crosby and Malkin.??Not one other power play in the league has Gonchar, Hossa and Malone on it and they are all doing better.? Mike Yeo has completely failed as special teams coach.?Now that I think about it, he sort of reminds me of "Dauber" from Coach.
Ryan Whitney:
If you were wondering why above I said in the last 24 games the power play is dead last in the league at 9.8%, it's because that's when Mike Yeo put Ryan Whitney at the point and removed our top scoring defenseman Alex Goligoski.? Ryan Whitney took our power play from ranked 10th in the league at 20% down to 24th in the league.? He has done this all the while amassing a team?worst -13 and took the team also from a playoff spot to way behind for a chance to make the playoffs.? Why am I down on him?? In an interview with the Post-Gazette, he is saying that he is still not 100%.? If you are not 100% DO NOT COME BACK AND PLAY you are not a TEAM player.
Maxime Talbot:
Love the commercials, where the hell have you been, I see your name on the roster every night???? How's that new contract?
Giles Meloche?:
This is not necessarily a what have you done for me lately as much as a what have you ever done for me.?? Last year the Penguins had a great Save/Percentage with both goaltenders and maybe Meloche did a good job with Conklin, maybe Conklin was just good.? I attribute Fluery's success last year to the baby Penguins goaltender coach?who finally got him to change the bright orange pads and worked with his stick handling behind the net and when he came back up his play was spectacular.? Meloche has been with the Penguins on and off for a long time, but I have still yet to see the teachings result in a great goaltender like you see on other teams.? Fleury was a #1 overall pick coming in, and hasn't shown it yet.?? While I can't guarantee that Meloche is a problem, I haven't seen results?either.? Fleury's save percentage ranks currently 21st in the league.? Oh, and don't try tell me he did a great job with Barrasso,?Barrasso was spectacular coming in.?
Ray, if Blysma doesn't end up being abysmal, you should let him pick his own staff .