League Leading
Impressive as it may seem, the Penguins have yet to lose a game this season that was not on a back 2 back night. Just as impressive, the Penguins do not have a mark in the tie column. The NHL in it's infinite wisdom use the tie column to post overtime losses so there are more teams that look like they have winning records. If you look at Detroit's record right now, it looks like they have a winning record: 6 wins 4 losses and 3 ties. In real life they have 6 wins, 7 losses. In the playoffs, there are no ties. Just a side note, if you throw the overtime losses into the loss column for the Capitals, they are 6-8 so far this year.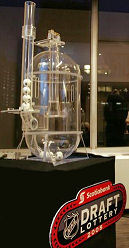 Magic Lottery Balls?
If the season ended right now, the Islanders would have a playoff spot thanks to #1 overall draft pick John Tavares and his team leading 11 points.   Have you noticed that every time a big name player comes up in the draft they end up going to a team that is in a contract dispute about building a new arena? Thankfully Pittsburgh was in a contract dispute at the right time. Oh those magic lottery balls.
Down But Not Out
If the playoffs started today the league would loose millions in TV and attendance revenue, that being said, the Boston Bruins and Detroit Redwings 2 of the top 3 teams last year would not be playing for the Stanley Cup. There is a lot of season left.
Crosby and the rest of the team need to step it up a notch
Anytime that Sidney Crosby has been out of the lineup for an extended amount of time, Evgeni Malkin picked up the slack and was able to keep the team on the right track by single handedly amassing huge amounts of points. It is a good sign that the Pens were able to win last night without Malkin and Gonchar in the lineup and with Crosby going scoreless, but my comfort level would be higher if Crosby would go on a Malkin like tear.
Conspiracy Theory #2
Is it possible that players are purposely injuring players that will be playing on other Olympic teams? When you look at the Russian lineup, probably the most solid Olympic lineup out there, right now these players are injured: Malkin, Ovechkin, Gonchar, Andrei Markov and Ilya Kovalchuk. Having these guys out of the Russian lineup would seriously take their team down a notch.