Call them unsportsmanlike or call them sore losers, whatever you call them, Detroit's lack of class runs from the captain of the team all the way down to the fans*.  Lidstrom waited less than 5 seconds for Crosby and the rest to come over to shake his hand before he and Draper lead the team off the ice, Lidstrom all of the sudden had an inability to skate past the blue line.  Then Draper goes to the locker room and outclasslesses himself by trying to blame their embarrassing childlike display on Sidney Crosby.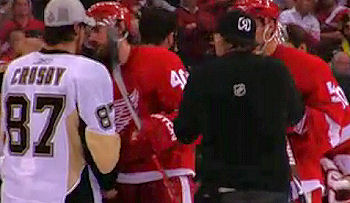 Last year Sidney Crosby and the rest of the Penguins did not line up 90 seconds after the Wings won like Lidstrom did this year, they let Detroit celebrate as long as they wanted and waited until Detroit started to line up when they were done celebrating. They had to skate all the way to the Detroit side corner of Mellon arena to make sure they shook hands with the Wings, and every last player on the Penguins skated to the corner to make sure, that is what a true sportsman does.
Lidstrom and Draper were the ones who led their team into the "Handshake Snub".  They should try having some class and dignity then start acting like adults, not little children. 
The Detroit fans who cheered when Crosby got injured then booed the Stanley Cup presentation and the skating of the cup, a year after the Pittsburgh Penguin fans stayed and watched their cup celebration without booing. They should probably take a look at the Washington Capitals supposed "bandwagon" fan base who gave a standing ovation to their team after they lost. Detroit fans went from 4th best in my book, behind Pittsburgh, Montreal and Buffalo to 29th in the league, one notch above a Philadelphia fan.
It's not just my opinion here's retired Detroit News sports reporter Jerry Green's opinion: Click Here> "Some Red Wings fans didn't act like champions"
*The unsportsmanlike comment and sore loser comment does not include players like Helm, Lebda, Osgood and especially Johan Franzen who showed true class, he was third in line after Lidstrom and Draper,  and he stayed to shake Sidney Crosby's hand.