Surprisingly, I don't feel that bad having just watched my beloved Penguins go down in the first game of this Stanley Cup Final.  I feel like we played the Red Wings on a much more even field than had been the case in last year's final.  In fact, it is possible that we outplayed the defending Stanley Cup Champions tonight.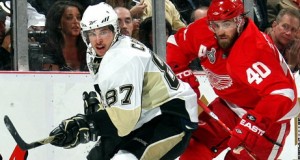 I thought the Penguins came out a bit tentative at the beginning of the game.  They seemed to loosen up as the game progressed.  In this game, I did not see a great deal of evidence that the Wings would completely dominate the puck possession game.  I thought the Pens did a good job of preventing good scoring opportunities.  In fact, the Red Wings three goals were of a less than highlight reel nature.  They got two bad goals that were the result of A) the lively boards at Joe Louis Arena & B) Fleury not playing the rebounds off of said lively boards properly.  The third goal, though a bit fluky, was the result of  Detroit's fourth line putting in some hard work.  The Pens, on the other hand, did have some good scoring opportunities.  Unfortunately, they were unable to capitalize on all but one of the scoring chances.  Ruslan Fedotenko scored a rebound goal that came as a result of Malkin stealing a puck in Detroit's zone.
The officiating was interesting tonight.  I cannot say it was good or bad.  What I can say was that it was consistent.  The refs seemed to let just about everything go tonight.  That certainly goes for both teams.  There were only three penalties called in a very physical game.
Notes:
I did not think that the Penguins intensity level was as high as it needed to be or has been in previous games.
Dan Bylsma may have panicked a bit in his juggling lines quite a bit after the Pens got down.
It will be interesting to see, now that they have lost with 7 defenseman, if Bylsma brings back Dupuis.  I think this would be a great move.  Dupuis can bring some much needed speed and and energy to the lineup.  This could serve as great advantage against this tired and banged up Detroit line up.
Fleury needs to be better.
There is going to be an interesting battle coming between Crosby and Zetterberg.
How cool was it to see Brooks Orpik lay Hossa out in the first period.
Why does Malkin insist on shooting the puck right away on breakaway attempts?  This guy has amazing hands.  I need to know why he does not use his moves to get the goalie out of position.
I think the Pens will be just fine.  Let's go steal one away in Detroit tomorrow.