Personally a few weeks ago I don?t think I would?have thought?this, but Shero may have put together a better group of forwards than what we had at this time last year.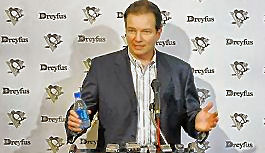 Arguable? You bet it is… and here?s why:
first line (a) –?Last year?s first line of Dupuis and Hossa, centered by Crosby has been replaced by Kunitz and Guerin, centered by Crosby. Kunitz a major upgrade and Crosby more experienced. Guerin is no?Hossa but also isn?t afraid to shoot the puck and actually have pushed Dupuis down to the 4th line. He was the weakest link of the 1st line. Right now there is no weak link.
first line (b)?- Last year?s second line of Malone and Sykora, centered by Malkin has only had Fedotenko inserted in Malone?s place. I would take Malone over Fedotenko but not by as much of a margin as?some might think. The weakest link on that line is Sykora. Mostly because of how inconsistent he?s been this season.? However, Malkin, like Crosby, is much more experienced. I have to give this one to last year?s line but not by that much.
third line – Last year?s third line was mostly Ruutu and Kennedy, centered by Staal. Cooke replaces Ruutu. Staal and Kennedy have that same experience factor going for them and Cooke, which some of the Ruutu loyal disagree, makes this line better than last year.
fourth line – Last year it was Roberts, Hall, Laraque, centered by Talbot. It?s been replaced by Dupuis, Adams, Godard, centered by Talbot.? The difference is the major upgrade of Dupuis on the 4th line over Roberts. Just like the Ruutu loyal love?Ruutu so do the Roberts loyal love Scary Gary. Personally, I thought he was pretty much a slug. The biggest difference on this line is the speed and not taking bonehead dumb penalties. I think Talbot?s play will benefit from upgrade.
I?m thinking? if it?s not better it is damn close but I?m going with better.? And Kudo's to Shero for being a decent GM.
?This is DR Hook… carry on