If you don't get your hopes up about Billy Guerin, you will like him much better. I was a little surprised when looking at Billy Guerin's career stats while researching numbers to do a 10 game report on how he is doing so far with the Penguins. What stood out most of all with his career stats was that nothing stood out, not one really big season.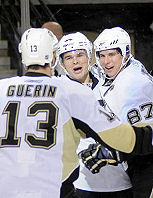 I was expecting to see big numbers from a guy that was an incredible goal scorer. What I found was only 2 years that he had 40 goals or more, and the year he had his most goals, 41, he only had 66 total points that season.  In Billy Guerin's NHL career he has 406 goals and 403 assists.  Even players you consider pure goal scorers like Temmu Selanne, who once scored 76 goals in a season, have more assists in their career than goals.
Billy Guerin has 10 points in 9 games with the Penguins.  His numbers since the NHL lockout year are less than stellar as you can see here:

38 year old Guerin has lost a step, he is not the speedster he used to be. I know what your thinking, who wouldn't look a little slower next to Crosby and Kunitz.  When the Penguins are on the power play is when his lack of endurance and passing abilities show.  Against Philadelphia, he gave the puck up many times on poor passes and not being able to get to it fast enough, causing the team to have to get back on sides and regroup wasting time and energy.
By the numbers, Kunitz and Sykora have put up way better power play numbers and overall numbers over the last few years. Having Guerin on the powerplay makes absolutely no sense when you have better players.  If you are thinking that Guerin is going to put up crazy numbers, you are mistaken.  Guerin has scored an average of 23 goals & 46 total points a season since the lockout, to put that into perspective, 41 year old Mark Recchi, the guy that the fans chased out of town for being to old and unproductive has averaged 21 goals & 58 points a season and got paid way less.
The question is, will we see Guerin in a Penguin uniform next year? I don't think so. He is currently making 4.5 million a year. For him to stay in a Penguin uniform that number would probably have to drop to about 1.5 million. Though the Islanders could not find any takers other than the Pens at 4.5 million, at around 2.5 million there will be bidders.
Guerin will score big goals in the playoffs, he has been and will be a great addition on Crosby's line, just don't expect him to put up numbers every night, and you will not be disapointed.