While Dan Bylsma's first big bout with diversity in his long 277 day NHL coaching career is far from over, the return of Maxime 'Superstar' Talbot to the Penguins lineup tonight will hopefully provide the locker room with a little bit of that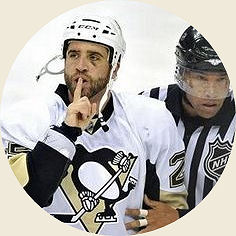 "Patch Adams" humor that will make the boo boo's hurt a little less and throw a little octane into the team that's fighting for a playoff spot in the best division in the NHL.
If you would have told me 40 days ago that only one of the six starting defensemen from opening night would still be skating at the end of last game, my money definitely would not have been on Mark Eaton. Eaton has missed an average of 35 games each season since becoming a Penguin. He left practice early today with back spasms putting his current Iron Man status on the Isle of Misfit defensemen is in jeopardy. Still fear not as one falls one gets back up to fight the good fight, Sergei Gonchar has been cleared to do battle this evening, Orpik is planning on returning Saturday. If that fails the Penguins have called up Chris Lee.
Throwing Gonchar back in the lineup hopefully will ignite the teams power play which is now ranked second to last in the league. The 7 point cushion the Penguins have over the Thrashers and tonight's nemesis the Ottawa Senators for the last playoff spot isn't as comfortable as it looks when you consider that they have 4 and 3 games in hand respectively. When the team is short this many players they may not beat the good teams, but winning against the lower teams is a must.