If your going to compare yourself to a goaltender, you might as well compare yourself to the best in the NHL. As luck would have it, this Saturday when the Penguins play Martin Brodeur and the New Jersey Devils, Marc-André Fleury will have a chance to bypass the pace that Brodeur has set on his way to most wins in NHL history for a goaltender.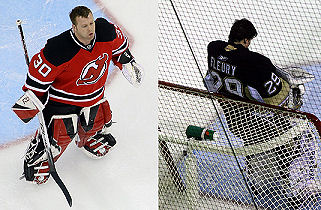 When Brodeur turned 25 he had 119 wins under his belt on his way to the 562 wins he currently owns which is the most by any goaltender ever in the NHL. Fleury right now is 24 years old and currently has 119 wins. With one more win before November 28th of this year (Fleury's 25th birthday), Fleury would be on pace to break Brodeur's record. If Fleury doesn't get the win this Saturday, he will have sixteen more attempts to get that win including a game on his 25th birthday against the NY Rangers.
By his 25th birthday, Brodeur had already won his first of 3 Stanley cups and had 29 playoff wins.  Now he needs to play only 23 more games to pass up Patrick Roy's most games ever played by a goaltender, 1029.  At 24 years of age Fleury has won a Stanley Cup, has 31 playoff wins and already has 8 more games played at the same age as Brodeur.
The 2010 Canadian Olympic team has invited Marc-André Fleury, Martin Brodeur, Roberto Luongo (Vancouver), Steve Mason (Columbus), Cam Ward (Carolina) to their tryouts.  Geniuses like Allen Muir from Sports Illustrated think that  Martin Brodeur, Roberto Luongo and Steve Mason should be the goaltenders for Canada. Marc-André Fleury is leading all 5 invitees in wins, save percentage and in goals against average He also just won a Stanley Cup, and was in his second trip to the finals in two years. He knows how to win.
Fleury shouldn't just be invited to play, he should be Canada's number one goaltender.  Four years ago the Canadians didn't invite Sidney Crosby to play on their Olympic team and they finished 7th overall. Their worst finish ever in the Olympics. Crosby finished that season (his rookie season) with 102 points, 6th best in the NHL.
The goaltenders for the Canadian Team's worst ever finish in 2006 were Martin Brodeur, Roberto Luongo and Marty Turco.