Lets face it, the inevitable is going to happen and the Pittsburgh Penguins are going to be face to face with the Detroit Redwings on June 5 when the puck is dropped inside Joe Lewis Arena for the beginning of the Stanley Cup finals.  The one thing that is on every Penguin fans mind is showing Marian Hossa how stupid he was for leaving.
I have heard people say that if we win they are going to frame picture of Sidney Crosby shaking Hossa's hand after the win, I have heard sort of the same that they want a framed picture of a dejected Hossa after the series. No matter how you look at it, I have not heard anyone say that they want revenge on the Detroit Redwings for beating us last year, it's all about "the Hossa."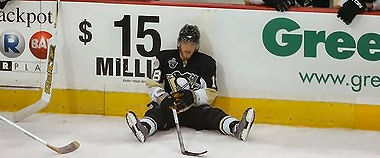 The one thing that I personally am tired of hearing is that people respect Marian Hossa for taking less money for a chance to win the cup.  This is 100% not true.  Marian Hossa signed with the Detroit Redwings for $450 thousand more than what the Penguins were offering him.  The Penguins offered him a 7 million a season for 5 seasons, Detroit offered him $7.45 million for one season. Hossa figured he would win the cup then sign a long term more lucrative contract with some hapless team who was willing to put up the big bucks.
The true reason Pittsburghers hate him, like they hate Barry Bonds, is that when he left the city he kicked us in the nuts. "I could get more money somewhere else, but I was looking for the best chance to win the Stanley Cup." Hossa said on the way out the door. Here we are full circle with a chance to kick him back in the nuts and every Penguin fan is relishing the moment.  Count me in as one of the fans that want to see him lose, and to have him have to sit there and have to watch it up close and personal would make it that much better. 
I have heard a fan say that if Hossa wanted to come back and play for the Penguins next year that they would welcome him back with open arms.  I strongly disagree.  Hossa has no respect for the city of Pittsburgh and our hockey team.   We are on the verge of something big here with this team and the last thing we need is to do is toss a selfish bad apple into the mix.