The Penguins played "desperation" hockey Wednesday and it paid off, the Penguins are in the same boat for today's game, and would be best served playing desparation hockey for the rest of the series. "We have to bring the same effort. We know they expect more of themselves, so we expect a tougher game here in Game 4." Crosby said.
Tonight, is the first of the rare back 2 back playoff games. The team with the better depth and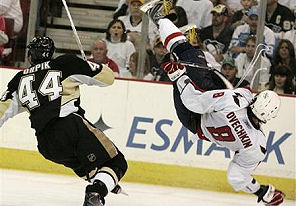 conditioning is going to win, plus it wouldn't hurt to put more points up on the scoreboard early, the team that's behind has to work harder. "You play back-to-back games, it's wearing. During the season, it's a bit of a factor sometimes. In the playoffs, it's intense, emotional games and you have to turn the page quickly." Crosby said "It's a 35-minute flight, probably not a huge advantage either way,"
Ovechkin in the off season has been training with the Russian record holder for the "Half Marathon", What the heck is a "Half Marathon"?  Anyway that should pay dividends for the Penguins on Saturday. 
Hopefully there is a lesson to be learned for Kris Letang, one timers, good, stop the puck then shoot, bad. All last game on the powerplay the team was working it to him across the slot, Crosby threw a beautiful pass to him and Malkin faked a shot and put the puck right on the tape of Letang's stick, just to have Letang stop it then shoot. Just swing at it, if you hit it, there is a good chance it will go in. For the life of me I cannot figure out how Kris Letang had 6 shots on goal to Gonchar's 2 shots on goal last game, he must of hit the net every time.
Sidney Crosby worked on his making his face off's better in practice before last game just to have it pay off in the form of winning only 25% of the face off's against Washington center David Steckel, that is until he won the final draw of the game against Steckel and got a game winning assist right off the face off.
What is the deal with everyone saying that Malkin finally got out of his slump? He is on a four game point scoring streak, there is more to hockey than scoring goals, which is why assists count for just as much. How many goals in hockey are scored without an assist? Not Many.
A little too caught up in the series? Police traced a death threat message written on a Pittsburgh Penguins homepage message board to a 17 year old from Chambersburg, PA which is 99 miles from north west of Washington DC, 161 miles from Pittsburgh. "I'm killing Ovechkin. I'll go to jail. I don't care anymore." was the message.   His laptop was confiscated, but no charges have been filed yet. There has been no mention whether or not he is a Capitals fan who is upset with how Ovechkin is playing. I'm sure this won't be blown out of proportion by the media.
What are they doing at the Seventh Street Grille? Word on the street is that 3 Capital players walked in for lunch and one of the employees at the restaurant removed the Penguin signs so the players could enjoy their lunch. I suggest moving the restaurant or employee to DC.
Ovechkin prognosticator extraordinaire predicted a 4 game sweep for the Capitals on Tuesday: "We want to move forward," Ovechkin said. "After the fourth game, there'll be a little celebration, but right now, nothing."
One more Ovechkin quote: "I just show who I am and I don't think about nothing."
Game time is 7PM and can be seen in high definition at both the Igloo and on VERSUS.