It took a while after the long layoff for the Penguins to get back into the groove, but they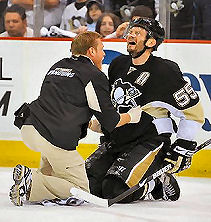 are in a groove now. With last nights 5-3 win the Penguins have evened the series at 2-2 but still have to win at least one game in Washington to win the series overall.
The Penguins have taken major offense to Ovechkin purposely trying to injure Sergei Gonchar and succeeding. Here are a few quotes:
Ruslan Fedontenko: "He's trying to hurt, obviously, we can play that game, too. I think the league should step up before it gets ugly."
Brooks Orpik: "He goes out there to hurt players, that's three games in a row, to us, he's out there trying to hurt guys, everyone likes to play physical in the playoffs, when you get the feeling guys are trying to hurt guys, hopefully it gets dealt with."
Ovechkin: "Yeah, it probably was knee on knee"
Ovechkin has never been suspended by the NHL before even though many teams have asked for him to be because of hits were he intended to injure. He has been suspended for one game in the World Hockey Championships for a hit the World Hockey Association deemed intent to injure to the head of a Swiss player 2 years ago. The World Hockey Association is obviously concerned about their players unlike the NHL who only cares about TV revenue.
VERSUS had the highest rated NHL Game In Seven Years with game 2 of the Pittsburgh / Washington series with 1.21 million viewers. Comcast owned VERSUS has seen a 25% increase in viewers of NHL games this year.
The Washington Capitals have blocked the Canadian Broadcasting Corporation and Hockey Night in Canada from doing post game interviews and interviews in between periods. The Capitals are upset that a white board that the Capitals forgot to take "strategic" information off of was shown during a broadcast after game 3.
Look out Hershey Bears… Janne Pesonen is back with the WBS Penguins and had a goal and 3 assists as the Baby Penguins got out to a 4-0 lead and went on to win last night 6-3 to even out the series at 2-2. The WBS Penguins also are playing back to back games and will play tonight at 7:05PM.
Still no word a an Ovechkin suspension, I'll keep updating you throughout this article.
The CEO of the faltering KHL Alexander Medvedev has thrown his support behind the Washington Capitals. "We support Washington, obviously," he was being interviewed personally, so I don't know who the "we" is, "The Russians are making the show, Please express my support to Ovechkin" If he judges character anything like he runs his hockey league I personally would rather have him pick the Kapitals, I'm sure he'll be trying to lure their players also causing the Kapitals to fork out more money.
Capitals owner Ted "the whiner" Leonsis is unhappy that the Penguins and Capitals have to play two nights in a row because of a Yanni concert in Pittsburgh. PenguinPoop writer Phil Krundle is unhappy that somehow there was three games in between the last series (after their series went seven games) and this series which gave the Capitals time to rest up.
One more quote from Brooks Orpik: "I mean, you can run guys, guys are fair game, but the guy (Ovechkin) takes strides every time and leaves his feet a lot of times, too, to us, we got the feeling he's really trying to hurt guys at times."
Still no word on a suspension.
Game time is 7PM and can be seen in high definition at both the Verizon Center and on FSN Pittsburgh.