The Penguins MUST win a game in the Detroit Red Wing's Joe Lewis Arena to win Lord Stanley's Cup, it is that simple. Tonight the energized and confident Penguins are looking to repeat what happened in the Washington Capital series by winning their third game in a row after being down two. Detroit will be the one playing desperation hockey for once and the Penguins must match their intensity level if they are going to win. Chris Osgood seems to think they haven't been playing desperate enough, "As a team, we need to play more desperate and sharper."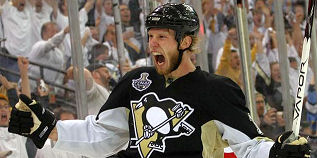 Jordan Staal's short handed shot heard around the world, is the start of an evolution. The Penguins have searched long and hard for a crack in Detroit's armor to no avail, so they cracked it themselves. Jordan Staal's short handed goal in the second period of Thursday's game instilled a world of confidence in the Penguins players and has left the Detroit players shaking in their skates.
What does Detroit have to say about the "Shot heard around the world…"?
Mikael Samuelsson: "That's something we can't allow to happen, definitely not a short hander, We can't allow something like that to happen. That was a big goal for them."
Nicklas Lidstrom: "Pittsburgh gained a lot of momentum on the shorthanded goal by Staal and playing in front of their crowd. They were really getting into it and that gave their team a boost"
Jonathan Ericsson: "we're thinking about getting a goal ourselves and then they wind up getting one on us, so it's tough"
Coach Mike Babcock: "Obviously, we had the game going pretty good. The crowd was pretty quiet. Our power plays hurt us, for sure, and sucked the life out of us."
The Penguins take on the goal:
Sidney Crosby: "I thought that goal gave us a boost and the fans were into it even more than they typically are. They felt it and as players we wanted to respond"
Jordan Staal: "It's obviously one of the biggest ones of my career so far, I think you can't beat a Stanley Cup Final goal. To try to change a game like that, it's pretty exciting."
How quick they turn on their teammates. Instead of taking responsibility for the four goals he let in, Chris Osgood, who owes his livelihood to Detroit's great defense blamed them for the goals scored. "The bottom line is we were just giving them too many odd-man rushes." Osgood said. The bottom line is that if Osgood had to face the kind of shots that most other goaltenders in the league face on a regular basis, he wouldn't be in the NHL.
NBC is making a huge mistake again. NBC will not allow the Pittsburgh Penguins to show the game outside at the Igloo. Do they think the fans outside don't watch the commercials? At the last two games at Mellon Arena the Penguins announcer announced they would like to thank VERSUS for allowing them to show the game on the big screen outside. The only thing stronger than the NHL fans huge brand loyalty is the NHL fans brand disloyalty. Yesterday I went and removed every NBC show I had from my Tivo DVR, other than the game of course.

Malkin and Crosby numbers are through the roof. Captain Crosby is back! With a beautiful goal, and a unbelievable one timer assist on Thursday.  He leads all players this post season with 15 goals.  Malkin, well, he has never left. He leads all post season players in scoring and assists, as a matter of fact, Malkin and Crosby are #1 and #2 in scoring, goals and assists and there is no-one even remotely close. Here is they company they are keeping among the top Pittsburgh Penguin single post season scorers:
Mario Lemieux       1991     44
Evgeni Malkin      2009    35
Mark Recchi           1991     34
Mario Lemieux       1992     34
Kevin Stevens       1991     33
Sidney Crosby     2009    31
Kevin Stevens       1992     28
Ron Francis           1992     27
Mario Lemieux       1996     27
Sidney Crosby       2008     27
Marian Hossa        2008     26
Jaromir Jagr          1992     24
Larry Murphy        1991     23
Jaromir Jagr          1996     23
Evgeni Malkin        2008     22
The search for Marion WHOssa continues. You can pick up your Hossa "Wanted for treason against the Pittsburgh Nation" T-shirt at Yinzers in the Strip District.  Read WTAE's: "Hossa Hatred: Pittsburgh Fans Still Angry At Ex-Penguin"
A few PenguinPoop fans sent us in some pictures from the last two games, even though we didn't ask for them:
| | |
| --- | --- |
| A little PenguinPoop with soon to be 1st overall draft pick John Tavaras at Tuesdays game | A PenguinPoop fan tailgating outside the arena has Jeff Jimmerson stop by before singing the anthem. |
Tickets available for game 6. Gate One at Mellon Arena and TicketMaster.com will be selling 500 tickets to the Stanley Cup Finals game 6 on Monday morning at 10am. Last game the Penguins sold 1000 tickets in 8 minutes, so get there fast.
Quick Quotes:
Chris Osgood: "We can't expect Pav (Pavel Datsyuk) to be the knight in shining armor and come and save us"
Captain Crosby "These last couple at home here have been desperation from us and it's going to be that way the rest of the way through."
Game time is 8PM and can be seen in high definition at the Joe Lewis Arena or on NBC but not outside at the Igloo.