Last year the star struck Pittsburgh Penguin youngsters didn't fair that well in their first trip to the Stanley Cup finals. We'll guess what. These kids are returning to the finals with an extra year of experience on their resume, the determination that they will not lose like they did last year and they are star struck no more. They have a new coach that has released the reigns of inhibition that the team played with last year and two superstars have broken free and are ready to wreak havoc on the Red Wings unlike anything the Wings have seen thus far in the playoffs.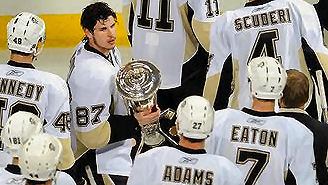 Sidney Crosby and Evgeni Malkin have been tearing through the best teams in the league for just a chance grab hold of the hardware for the summer. These two are the leagues leading scorers by far, thanks to the teams new aggressive approach and thanks to the positive attitude instilled into them by Dan Bylsma. They have already have the highest amount of points scored in a playoff season in the last 13 years.
Don't forget about Jordan Staal, he claimed he was going to have a breakout during the Carolina series against his brother, but everybody knows Osgood is Staal's favorite goaltender and my prognostication is that this will be his breakout series.
As far as goaltenders go, I would take Marc-Andre Fluery in a heartbeat over Osgood.   Talent wise Fluery beats Osgood to a pulp and with Detroits defensive corps falling apart injury wise this post season you are going to see Conklin in net sooner rather than later.
Revenge on Marian WHOssa? Hossa, the most overrated player in the NHL returned to his playoff under performing self the second he stepped off of Sidney Crosby's line. After notching 26 points along side Sidney Crosby last year, he has 12 points so far this post season. Are the Penguins using the fact that Marian Hossa said that he was leaving to play on the Red Wings so that he had a chance to win the cup as motivation. You bet your sweet Aunt Petunia's arse they are. What I see is $7.45 million reasons the Penguins are playing better without him. 
Kunitz ROCKS! One other thing the Penguins have going for them is Chris Kunitz. The reason Crosby is enjoying a way better post season is because he is unfettered by the other teams goons thanks to the hard hitting in your face play of Kunitz. Putting Kunitz and seasoned veteran Billy Guerin on his line has really opened the ice up for him. 
The Red Wings are whining already. The Red Wings GM Ken Holland is whining about the series starting so soon. "We're not happy, I have to be honest, We're disappointed that we haven't had an extra day's rest. It's a double-whammy, the quick turnaround and back-to-back games. We're disappointed because we think when you win a series in five games or less, that you have earned an opportunity to have a few more days of rest." Both teams are getting the same amount of rest. I bet he doesn't say a word if the Penguins had all the injuries and his team was healthy.
The Red Wings are getting ready with their excuses. Jonathan Ericsson, Pavel Datsyuk, Tomas Kopecky, Nicklas Lidstrom, Kris Draper, Andreas Lilja, and Tomas Kopecky are injured and did not play the last game against Chicago. Datsyuk and Lidstrom are expected to play tonight and Hossa may have injured his knee.
Evgeni Malkin needs to play better this time around. Last year Malkin had 1 goal and 2 assists in the cup round and looked completely worn down even before he played the first game. What a difference a year makes. One year later, Malkin is used to the NHL grind and is in way better shape. The Red Wings will not hold him to three points this time around.
You can name easier teams in the Western Conference you'd like the Penguins to be playing, but you can't name one team that you that you would rather have the Penguins beat in the Stanley Cup finals than the Detroit Red Wings.
Sidney Crosby: "We know what to do. We've got to go out there and do it."
Will Pittsburgh be the "City of Champions" once again?
Game time is 8PM and can be seen in high definition at the Joe Louis Arena or on NBC.
Related Articles:
Pittsburgh Penguins: The Birth of a Dynasty
For Pittsburgh Penguin fans, it's all about beating Marian Hossa
Stanley Cup Finals – Predictions – Pittsburgh Penguins vs Detroit Redwings