Hurricane? Monday night's performance by the Hurricanes would barely rate as a Tropical Storm. The Penguins owned the game from the beginning up until about 3 minutes left when Carolina's cardiac kids whipped up a storm and came close to tying the game.  These two teams have been traveling the same road the last few months, coming into the playoffs the 2 hottest teams in the NHL, but the Penguins have one thing that Carolina doesn't, the top two scorers in the NHL playoffs right now in Sidney Crosby and Evgeni Malkin.

Erik Cole and Tuomo Ruutu did not practice yesterday for Carolina and depending on who you ask, they will or will not be playing. Carolina's GM is saying that they are out while Carolina's coach is still holding out hope.  I bet Carolina is missing their combined 1 goal and plus/minus of -6 for the playoffs already.
Carolina's coach goes NASCAR on the Penguins. Matt Cooke will not be suspended and didn't even have a hearing for bumping Carolina's Eric Cole, but that didn't stop Carolina's coach Paul Maurice from voicing his opinion: "You can hit, but in NASCAR country, there's no rubbing allowed" "we have to be careful with any contact or if you're going to drive the front of the net, you're not allowed to bump which is fine, just as long as it goes both ways."
Carolina fans think the NHL wants the Penguins to win.  Luke DeCock tries to quell all of the Carolina fan's fears that the NHL is trying to eliminate them from the playoffs:  click here to read his article: "Conspiracy theorists can just ice those fears"
Kunitz zero goals in 14 playoff games. Don't underestimate the media's latest goat Chris Kunitz's value to the Penguins. This is a guy who has parted the red jersey's to clear the way for Crosby & Guerin all playoffs long.  Oh, and if your keeping count, he has as many points as Cole & Ruutu combined and is a plus 1.
Don't adjust your set.  The Penguins last opponent wore red jerseys, this round their nemesis is wearing red jerseys and if the Penguins make it to the finals, their opponent will be wearing red.
A rematch in the finals? Even though Detroit is up 2 games and the Penguins up 1 game, the odds are not good for both teams making it to a rematch in the finals. The last time it happened was 25 years ago when the Islanders and Oilers went back to back.
I hate "Hockeytahn".  This is a blatant infringement on Detroit's "Hockeytown", not that I care that we are infringing on those dufuses, I just think we can come up with our own better name if we even need one.  Can we stop the stupid slogans? "Yes We Can"
Jordan Wins!  Jordan Staal won two out of three faceoffs against his older brother Eric. Here's a picture they won't show on Versus.  Jordan & Eric Staal's mug shots from when they got a misdemeanor for disorderly conduct and obstructing the legal process at Eric's bachelor party 2 summers ago.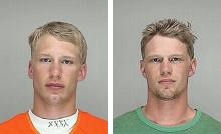 Reirden locked down.  Ray Shero signed 37 year old Todd Reirden the interim head coach of the WBS Penguins to a multi year contract as head coach.
TV ratings for Mondays game are in.  The VERSUS game rated a 1.1 neilson rating with 20% of the Pittsburgh market and only 7% of the Carolina market tuning in.
The whiteout is back. Tonight the Penguins will be handing out white t-shirts and 84 Lumber towels at the gates.
Game time is 7:30PM and can be seen in high definition at both the Igloo and on VERSUS.