The Penguins started the game out last night very tentative, and by the time they got on a roll, Detroit was already in their trap system because of the two freak goals that they got.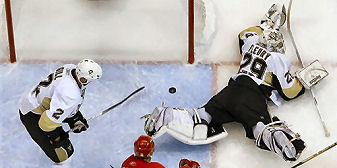 Dan Bylsma has done a fantastic coaching job this post season, but the one thing he could have stood to do was be a little more pro active in the line-up changes between series. I felt going into the Washington series that he should have changed the lineup because Washington has a different style than Philly and even though we won the last game in Philly, that didn't necessitate keeping the same lineup together.
Tonight he has a big advantage over the Red Wings in the fact that he has a very healthy team and can plug fresh guys into the lineup who are just as skilled as the guys they would be replacing. Dupuis, Sykora, Goligoski and the rest of the guys sitting should all be brought in, and used to pound Detroit with the fore check.
The whiny-est team in hockey?  We played the Philadelphia Cryers and had to listen to the coach and fans whine the whole time, but seriously that is nothing compared to the Detroit coach and fans. "I thought Crosby went to Zetterberg in the neutral zone, got him in the crosscheck." Babcock the whiny-est coach in the NHL said. The big question is, is the team whinier than the fans? "Motown" "Hockeytown" "Whinytown"
Original six? Pittsburgh had NHL hockey before Detroit did, how they got to be an original six team is a wonder, sort of like how they are "Hockeytown" and can't sell out their regular season in a cup year. I guess you can never again call the Detroit fans fair weather fans, because they don't show up whether their team is playing well or not.
Side Note:  Bettman is saying the Salary Cap may drop 5% next year – that would be interesting!
Quickies:
Making up for the 3 points total he had in the finals last year. Malkin has scored more points in the playoff this year than anyone has in the last 13 years.
Marian WHOssa was held scoreless again and still only has 12 points this playoff season. That didn't stop him from celebrating like he scored a goal.
The Detroit fans showed their usual class with their "Bull Shit" cheer.
The Wings won 39 of the 55 or over 70% of the faceoffs.
Crosby:  "We made a few mistakes tonight, and so did they. They got a few bounces. That's what it came down to. But we believe in our game. We're confident that we can get one here and go home."
Gametime is 8PM and can be seen in high definition at the Joe Lewis Arena or on NBC.