Tonight is the second game in a row that we will be hosting a team at home who is playing their second game in two nights.??
Brodeur set the record the other night for most wins ever by a goaltender, 552.? I bet your wondering how Fluery is doing compared to how Brodeur was doing at this point in his career. Well I'll tell you anyway.? When Brodeur had his 25th birthday, he had 119 wins under his belt.? Fluery currently has 105 wins, if he can get 15 regular season wins by his 25th birthday on November 28th of this year, he will be ahead of Brodeur.? Don't forget to send him a birthday card!
Janne Pesonen had two more goals for the WBS Penguins during Wednesday's?St. Patrick's game, adding to the record he just broke of most points scored in season on the baby Pens.? Miroslav Satan had one assist.? Here it is, the Satan wearing a St. Patrick uniform picture you were all hoping to see: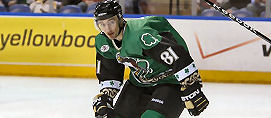 The Thrashers and all of their fans, I mean the Thrashers and both of their fans have been squabbling for the last two days about the hit that Matt Cooke placed on Zach Bogosian.? You can read stuff like this posted all over the net:? "Was the hit against Bogosian inflicted by Cooke with the intent to injure? Well, you all can hack that out if you wish. As for me, it certainly looked that way."?? Decide for Yourself Here:?YouTube: Matt Cooke Hit on Bogosian? If you watch the last angle you will see the Bogosian was the one that had his knee out, not Cooke.
Quote 'Em:? Gonchar on his & Eaton's 2 on 1 break on Tuesday:?? "That has never happened in my life before, Obviously, you are not going to see many of those but it?s kind of neat, especially for Mark. You?re not seeing him that many times leading the rush and he was there, and I am very happy that he was there and had a chance to score."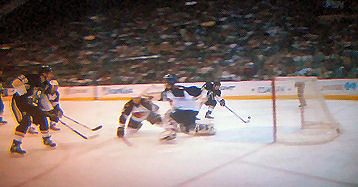 With the Kings playing back to back games and the Penguins on a hot streak, the odds makers have made tonight's game the sure thing game of the day, even with all the NCAA games going on.? The Penguins are favored by 1 1/2.? I didn't even know you could bet on hockey, I guess you can bet on anything.
?
Good/Funny article in USA Today by Kevin Allen:??? Penguins emerge from doldrums looking like Cup contender It asks why Crosby is still living at Lemieux's, and wonders if Crosby minds being Robin this year instead of Batman.? I say there is still 10 games left to decide who's Batman.
?
On Wednesday,? Pierre McGuire, Bob McKenzie & Keith Jones rated the acquisition of Chris Kunitz the #1 acquisition at trade deadline.? Thanks for telling us what we already knew.? They were split on whether the MVP should go to Evgeni Malkin or Alex "I can't pass" Ovechkin.? Keith Jones was the one who voted for Malkin.? The genius Bob Mckenzie (not the one who's Doug's brother) said that "goals are worth more than points in my view", sounds like a Yogi Berra in the making.
The Kings win last night in Boston gave the Kings their first win in their last 7 road games.? A big thank you to the Bruins for taking them to overtime.
Tonight is our first and probably last game this season against the Kings.? Gametime is 7:30 pm and can be seen in HD at Igloo or at home.