The trade deadline revamped Calgary Flames play the trade deadline revamped Pittsburgh Penguins tonight at 7:30pm at the Civic Mellon Arena for their first and only regular season game.??We here at PenguinPoop are hoping we play them again this year.
Watch out for Olli Jokinen, in the nine games since he was traded to Calgary he has 8 goals and twelve points.? He did not register a point yesterday though, probably because Calgary didn't play.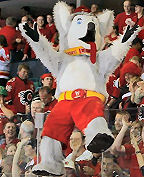 Calgary's mascot Harvey the Hound was the first ever mascot in the NHL.? He made his NHL debut February 16th of 1984 when the Penguins were visiting the Olympic Saddledome.? The Pens were routed 10-3 in a game that had two Calgary players?register hat tricks (just another game that helped us get Lemieux).? In 2003 when Harvey the Hound was behind the bench taunting the Edmonton Oilers, Oiler coach Craig MacTavish who's team was losing 4-0, ripped out Harvey's big red tongue.
Evgeni Malkin's big week last week had him registering a career high 5 points in a game against Atlanta Flames Thrashers on St. Patrick's Day, then?he got?disciplined and fined by the NHL for a collision with LA King defenseman Wayne Simmonds, then he received the NHL #2 star of the week.? Now that's a triple crown.? With Malkin getting the NHL star, it is the third time in three weeks that the Penguins have had a player be one of the NHL's 3 stars.? Another Triple Crown.
Looking for answers on the powerplay?? How about Petr Sykora?? He has as many powerplay goals (13) as Billy Guerin (5), Chris Kunitz (6) and Jordan Staal (2)…. Combined.? He has played over 20 minutes less than Billy Guerin on the powerplay this year.? The Power play has been working at 30% for the last four games.? Yeo, that's a major improvement from the 16.9% it is at for the season.
Penguins become construction workers for a day, Jordon Staal, Max Talbot, Pascal Dupuis and Tyler Kennedy took pizzas, snacks and drinks over to the construction crew who is building the new arena.? You can read the story here? "Penguins Make Special Delivery" and check out some cool photos of Pascal Dupuis not working the crane so well.?? Hey Pascal, don't quit your night job!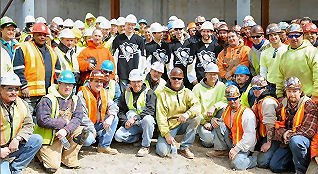 Here is their big chance!? This couldn't have worked out better for the Penguins and for all of Pittsburgh!? Saturday afternoon the Penguins are having a clothing drive to support Goodwill.? "gently" worn clothing will be collected at the gates from 12pm until 10 minutes before game time.? The Penguins are also scheduled Saturday to wear the cursed ugly pansy baby blue Jerseys.? I think it would really say a lot to the community if they (and the fans) just took those jersey's and gave them to Goodwill, preferably before the game.
Calgary has only won?four out of?9 games since the trading deadline, but two of those wins were against Detroit.
Game time is 7:30PM and can be seen in HD at Igloo or at home.