The Penguins have turned desperation into determination and know what it takes to win a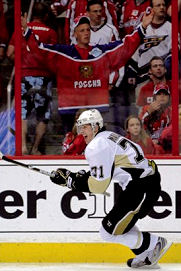 game. Laying their bodies in front of 100 mile an hour slap shots, giving 110% effort and getting off the ice and playing a team oriented game. These are are the characteristics of winners, these are the characteristics enveloped by the Pittsburgh Penguins this entire series.  The Penguins are up 3-2 in the series and the Capitals are on the edge of elimination.
The Capitals coach gave the Capitals another "Mental Health Day" yesterday just like he did on Thursday right before he lost 2 games in a row. They did not have practice,  review tapes, nothing. Thankfully our coach is Dan Bylsma and the Penguins are all about learning from the previous games and practicing, you can really see that the Penguins are the team that is in it to win.  Rest after you win the cup.
While I wasn't quite sure what to expect dressing 7 defensemen last game and sitting a great hustler Pascal Dupuis who just came off a great game where it seemed his timing was back and he had some great shots on net. Dan Bylsma's plan paid off and it really showed when Capitals coach Bruce Boudreau picked Fedorov to replace the injured John Erskine on defense during a powerplay of all times.
Is Donald Brashear going to be in Washington Capital's lineup? It doesn't sound like it, when questioned on it the Capitals coach said "It would be pretty tough at this point" but don't take that to mean he won't, the teams are not necessarily being upfront about their game time plans.
Brooks Orpik claimed that he likes the Washington fans more than the Philadelphia fans "That's just because the fans here (Washington), are a lot classier" and this was after the Washington fans littered the ice with bottles and garbage after the overtime goal.
Ovechkin said: "You can see it, first shift Stecks missed empty net and I said, 'Jesus, where is our luck?' The puck is bouncing and the next shift they get power play and score goal." It not luck, it's called karma, good things happen to good people, bad things happen to people who knee their so called friends with intent to injure. Hey Crab-man!
Evgeni Malkin joked with his mom & dad in the Penguins locker room after his huge overtime goal. "Dad, just tell me who let you in here!" He is very upbeat and seems to like the changes Bylsma has made. "I started playing a bit differently, the coaches changed my line, and everything just started going well. Hopefully, this is how it will continue."
If you thought playing back to back games because of a Yanni concert was tough, the WBS Penguins played the Hershey Bears back to back to back games this weekend, yes three games in three nights. The Penguins were shut out yesterday 3-0 and the series is now tied 3-3. The 7th game is Tuesday night at 7pm.
The Capitals have now lost seven straight games in playoff overtimes. The Penguin goaltender Fluery has won five games in a row in playoff overtimes.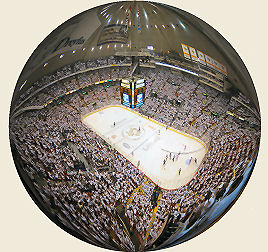 Varlamov thinks that Crosby ran him on purpose: "I wasn't injured on the play, but I think he collided with me on purpose, in order to get me out of the game… But I continued to play, so he obviously wasn't successful at that." Earlier in the game Fedotenko moved to the side to avoid hitting Varlamov just to get viciously cross-checked while off balance by a Capitals defender.
Another "White-Out" night,  all fans are getting t-shirts and "rally" towels from the Trib. Capitals owner Ted Leonsis whined on his blog that the Penguins have to hand out t-shirts for a "white-out" while the Capitals "red-out" is more authentic.  The PenguinPoop "take" on it is that Leonsis is just plain cheap.
Fedotenko: "They are not finished, we have not won this thing, they are going to come back at us with everything next game. We have to be ready."
Game time is 7PM and can be seen in high definition at both the Igloo and on FSN Pittsburgh