The NJ Devils are mired in a 5 game losing streak, "But now it's time. I mean, the foot is down. Enough is enough." said Brent Sutter.   That foot is down and is shaking in it's boot.  In 2007 the Devil's GM Lou Lamoriello fired coach Claude Julien on April 2nd (two years ago tomorrow)  and took over with a week left in the regular season, that should have Sutter looking over his shoulder.  Julien had the Devils at 107 pts when he got canned, the Devils only have 98 now.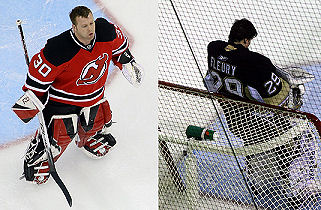 Fleury only needs 12 regular season wins by November 28th of this year to be ahead of the pace that Brodeur has set being the goaltender with the most wins in the NHL. 
You know you are good when they other team chants "Crosby Sucks"  You know your the best when someone writes a song:  "Utoob: Crosby Sucks"    Made by some hack of a band from Washington, probably more fair weather Capital fans.  It has 997 hits on Utoob, I couldn't understand what they were saying, but I think the fact the fans of another team wrote a song about him is a testament to how good of a player he is.  If they wrote a song "Crosby is a Swell Guy" then I'd be worried.
The WBS Penguins clinched a playoff spot Sunday night with a 1-o shutout of the league leading Hershey Bears.  Dustin Jeffrey scored the game winner and the games only goal.  31 was the WBS Penguin's goaltender John Curry's magic number Sunday, he made 31 saves for the shutout, and registered his 31st win setting the WBS single season record for wins.
Coach Dan Bylsma ended up beating Crosby in a shoot-out competition yesterday, apparently there is a little controversy around it.  You can read about it here :   Penguins Report: Funny Conspiracy Theory
The Penguins ar 5-1-1 so far on their 8 game homestand and are 2-1-2 in their season series with the Devils.  The Devils have lost 5 games in a row and have been outscored 15-7.  Brodeur has faced an average of 36 shots a game in that five game period.
Game time is 7:30PM and can be seen in HD at Igloo or at home.