The Penguins only two losses to the Flyers this year have been during the weekend matinees. Thanks to a great scheduler from the NHL, the Penguins will have to play 2 weekend matinees this series, that is if the Flyers can force a game 6. Sundays game is once again being nationally televised and the Sunday matinee is Steven Spielberg's "Goonies"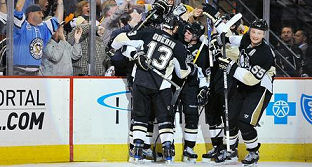 A 5 on 3 overtime playoff goal has only happened twice ever in the NHL.  An even rarer occurrence, Billy Guerin, who's quite possibly older than the NHL, had his first post-season game winning goal. "There's a first time for everything, I guess"  Guerin said.
If you thought the games were rough in Pittsburgh, wait 'til you see the Flyers step their cheap shot goonism tactics up a notch in in front of the home crowd in Philadelphia. It's not like the Penguins haven't met every challenge and matched every hit.  Keep in mind the Pens haven't even brought in the tough guy yet, Godard has been a healthy scratch the last two games.
Word on the street is that the Flyers will dress Daniel Carcillo even though they played a way better game without him on Friday.  Flyers coach Stevens said of the NHL leading penalty minutes Carcillo: "I think he can bring a lot of good things to our team. I think he's played well lately."
Double Down, both the Pittsburgh Penguins and the WBS Penguins have won their first two games in the playoffs. Both teams won their second game in overtime, Billy Guerin scoring the game winner for Pittsburgh Friday and Chris Minard scoring the game winner in OT for WBS last night. Will both teams go to the finals again this year? The futures so bright Shero should wear shades.
Penguins just like last year will be heading into the Flyers Wachovia Center lair up 2-0, knowing that the Flyers are 2-11 when trailing 0-2 in a series.
Penguin Power. The Penguins post season power play is rolling at 24.6% a far cry better than the 17.2% it ended the regular season at.
Penguin fans need to stop booing Hartnell. This guy is a cheap shot dufus who does not deserve an ounce of recognition. When you watch the Flyers game today, and you hear the organist lead the crowd into the "Crosby Sucks" chant, think about how booing Hartnell is giving him the same recognition that Crosby gets.
While I'm on "booing".  Just one more reason Pittsburgh is a great sports town is because you will never see Penguin fans booing our team off the ice like they do in Philadelphia and did in Washington yesterday.
Quick Quotes:
Mike Knuble: "Two games in a row something stupid happened to me"
Sidney Crosby: "We know they're going to come hard and be desperate"
Kimmo Timonen: "I didn't see the refs yelling at their bench, not one time"
I've always been a day late and exactly one dollar short, but this is a great article by Frank D over on PensBurgh:  "read it here: Attention ladies – now's your chance for a $1 game"
Gametime is 3PM and can be seen in high definition at the Wachovia Center or on NBC.