News flash for the Penguins: You are not going to be handed a win today, you have to earn it. Where were the players blocking shots? Where were the players diving to make plays? Where was the hustle, the grit, and especially where was the desire? To win today the Penguins must have every one of these things.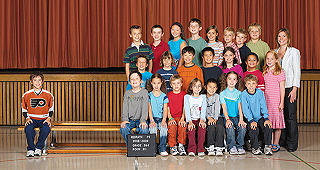 Both Philadelphia and Pittsburgh have scored 13 goals. Pittsburgh has had peppered Martin Biron with 32.8 shots per game and Philadelphia has peppered Marc-Andre Fleury with 33.6 shots a game. The Penguins have taken 4 fewer shots on goal. The Penguins have out shot the flyers in 3 of the five games and the Penguins won the game in which they were out shot by 20 shots.
As amazing as you think the third line of Jordan Staal, Tyler Kennedy and Matt Cooke have been for the Penguins, they have only scored 2 goals, both by Tyler Kennedy. Dan Bylsma sat Petr Sykora and moved Pascal Dupuis up to Evgeni Malkin's line even though Pascal Dupuis has as many points in the playoffs as Sykora has, Zero. If I was coach, I would send Tyler Kennedy up to Malkin's line and replace Tyler Kennedy on the third line with a player that can match his speed and intensity, Pascal Dupuis. If I was coach I would also give all PenguinPoop readers free Penguin tickets, that's if I was coach.
Though the Penguins haven't released their lineup for Today, my bet is that we will see Petr Sykora back in the game, the Miroslav Satan test was fun, but let's get back to reality. If your looking for scoring though, you might want to bring up Chris Minard, from the WBS Penguins, he has 5 goals and two assist for 7 points, in 5 playoff games. Minard, Jean-Michel Daoust and Jeff Taffe all have seven points, the same amount of points that NHL league leader Evgeni Malkin has.
Speaking of the WBS Penguins, they closed out their series with the Bridgeport Sound Tigers by beating them 4-2 on Thursday and are on their way to the second round of the playoffs. On the other side, Philadelphia's minor league team, the Philadelphia Phantoms were eliminated in 4 games by the Hershey Bears.
Quote: Flyers Mike Knuble "I think everybody underestimates how difficult it is to close a series, We found that last year with the Capitals. They were able to hang around and drag the series out and really tested us. When you're closing it out, you think you feel like you have time and there's not that urgency. When you're on your way out, if you have that chance to go out, there's that urgency."
Even though both teams are loaded with offensive talent, the Penguins with 2 of the top 3 scorers in the league and Philadelphia with 6 players with over 20 goals in the regular season, the last two games Fluery and Biron have stole the show.
Phillip Boucher filling in for Chris Letang was on the ice for 2 of the three Flyer goals. Even though the Penguins didn't score on the powerplay, his shot at point with Gonchars seemed to provide and great one-two threat. On the flip side Philadelphia seemed to take more shorthanded chances against the Penguins.
Celebrity look-a-like: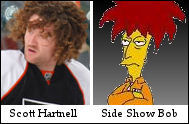 Here is a quote from Scott Hartnell's NHL blog "Hartnell's Blog" the day before we knocked them out of the playoffs last year: "We want to keep it physical and hopefully we can frustrate the Penguins. They were punching and stuff after the whistles, and I think I heard Sidney Crosby say that that is not their game, and they have to use their speed and skill."  
Time for a Penguin quote: Sidney Crosby: "We realize it's a big challenge, (Thursday) night is done with. We are up 3-2 with a chance to close it out. It's a good challenge for us going in there. They are going to be desperate again and we need a big game from everyone."
If Crosby would have summed it up that nicely earlier, I wouldn't have had to write all of this crap. 
Gametime is 3PM and can be seen in high definition at the Wachovia Center or on NBC.