Seriously, there is only two things to care about in this game. Evgeni Malkin winning the Art Ross Trophy and that no one gets injured.   Maybe Malkin will truly exist as of tonight: "Does Malkin Exist?"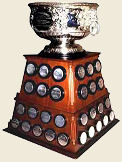 Malkin leads Ovechkin by 4 points going into tonights game. Malkin has 112 – Ovechkin has 108pts. Both games start at 7pm tonight, Ovechkin is playing the Florida Panthers.
Satan was recalled by Pittsburgh on Good Friday. Satan has cleared waivers and is back with Pittsburgh because of his stellar play with the WBS Penguins. Well, not as much as you would think, Satan has 6 points in his 10 games with the WBS Penguins, probably not as many as you would think an NHL veteran would have. My guess would be that it was a last ditch effort to save half of this salary or he was bringing down the WBS Penguins also.
Maybe I should be a little nicer, as much as I am picking on Satan,  with all of the time he has missed being sent down to the minors he still is 6th on the Penguins in scoring this season. Satan is not scheduled to be in tonight's lineup.
The Penguins goaltender prospect, Northeastern Husky goaltender Brad Thiessen did not win the Hobey Baker award, the award went to B.U.'s defenseman Matt Gilroy.
Darryl Sydor said the Michel Therrien was the worst coach that he has ever played for. I don't remember Therrien actually playing Sydor. Talk about being salty because a coach benched you because of poor play. I guess the rest of Sydor's coaches took him to the Stanley Cup final and won.
Referee Don "have another donut" Koharski retired on Thursday with 1719 games under his belt.
If you felt like it, you could watch NHL hockey from 1pm this afternoon, have a half an hour break to go to the bathroom between 6:30 and 7pm providing a game doesn't go into overtime, and continue watching until around 1 am tomorrow. The NHL has games scheduled today for 1,2,3,4,7,8 and 10pm tonight.
I was out of town and missed being at fan appreciation night, but did anyone happen to see the guy rip the shirt out of Evgeni Malkin's parents hands when Malkin threw his parents up a t-shirt? As Ken Stevens would say, "unbeweaveable".
Depending on how things go today, the Penguins can end up anywhere between 4th and 6th place. Carolina and Philly play this afternoon and Philly plays tomorrow, it would take a Penguin win and two losses by Philly for the Penguins to have home ice advantage. The Habs need a win for a chance to nab 7th place from the Rangers, they will face either the Bruins or Capitals in the playoffs.
The Habs are 6-5-4 since Bob Gainey replaced Guy Carbonneau as coach. PenguinPoop Prediction – If the Habs go down in 5 games or less to Washington or Boston, the Habs GM/Coach Bob Gainey will be sent packing.
Game time is 7PM and can be seen in HD at the Bell Centre at home on FSN.