Oh Carolina, Carolina.  Where the hockey players wear NASCAR helmets and the NASCAR drivers wear Hurricane helmets.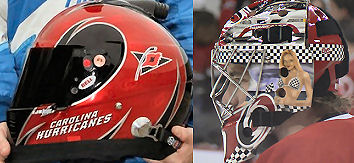 What can you say except these guys are on fire, and if you know anything about Hurricanes, its tough to start a fire in one.  How hot is the fire, how about 11 wins in a row at home.  What's the best way to put out that fire?  With a fire of your own, Penguins are 15-2-3 since Bylsma took over as coach.  Something is gonna give tonight and I willing to bet you see a huge Penguin fan contingent there.
 
Carolina Hurricanes, one of the NHL's 5 state teams if you don't count the New York Rangers & Islanders, can you name all five?  I'll let you know at the bottom.  
Janne Pesonen & Ben Lovejoy of the WBS Penguins were named to the AHL's Second All-Star Team.  Pesonen has set the WBS points record for a season & Lovejoy's plus 43 is the best plus minus in the AHL.   I guess playing this well has left Lovejoy no time to work on his blog:  Hockey Road Trip 
 
Ruslan Fedotenko, who did not play the third period of the Pens/Devils game 2 nights ago practiced Friday and he should be in the lineup tonight.
 
Staal vs. Staal – Eric Staal has scored 19pts in the 12 games since he was reunited with Erik Cole, Jordan Staal has 6 goals and 5 assists since he was united with Dan Bylsma.
Malkin hasn't quite sewn up that Art Ross trophy yet, Ovechkin tallied 3 more points last night and is only four points behind.  Luckily, Malkin has one game in hand. 
The Penguins who had only one goaltender signed for next year between Pittsburgh and the farm just signed Northeastern Husky goaltender Brad Thiessen a finalist for this years Hobey Baker award to a two-year contract.  They didn't stop there, right after that they signed his teammate Center Joe Vitale who was named Hockey East's Best Defensive Forward.  Both will be heading to the WBS Penguins. 
New Jersey, Colorado, Minnesota and Florida are the other four, if you got them correct you can pick up the keys to your brand new Chrystler Cordoba in Marty's office.
 
I was really looking forward to the Pittsburgh/Carolina double header this evening, but it would seem that once again the Pitt Panthers have doused my hopes.
 
I miss the Whalers, the uniforms and that "Brass Bonanza" song they used to play everytime someone scored a goal:  Whalers Theme Song on Utoob – Bring back the Whale!
 
Game time is 7PM and can be seen in HD the RBC Center or at home on FSN.