Here it comes, the All-Star match up the NHL wanted, the series that everyone and their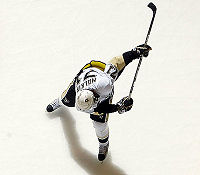 mom wanted, two of hottest NHL players going head to head in a twisted offensive spectacle yet to be seen in an NHL series, this is Larry Bird vs Magic Johnson, this is Ali vs Frazier, Nicklaus vs Palmer, this is the playoffs top scorer vs the playoffs top goal scorer, this is Evgeni Malkin vs Alexander Semin. 
I have never seen such disrespect for a player in my lifetime. Listen to these headlines on NHL.com: "Cherry, Milbury, McGuire talk AO/Crosby ", "Playoff battle takes Crosby-AO rivalry to new heights" how about our own Pittsburgh Post-Gazette: "Crosby vs. Ovechkin is a monumental clash of titans" Has anyone other than me noticed that the number one player in the league has not been mentioned in any articles?
If the Bears crapital in the forest would anyone hear it? At the same time the Pittsburgh – Washington series is going on, the Hershey Bears, Washington's minor league team, will be playing the WBS Penguins for the forth time in four years. Both series start today. Last year the WBS Penguins beat Hershey and won the Calder Cup championship.
The Ted Leonsis (Washington's GM) media machine is in full effect. Lebron James, who I believe is a basketball player, sent Ovechin a shirt, well, he sent Leonsis a shirt to give to Ovechkin.  So two players who've never won a championship exchanged shirts, alert the media! The reason the Capitals are making a big deal about it is because they haven't sold out their games. There are still single game tickets left. The secret password used on their website to keep Penguin fans from purchasing their tickets is: "LABRE"
Alexander Ovechkin skipped practice the other day and worked with a personal trainer, the team officials said don't be alarmed, that is normal for a player who is not team oriented. Penguins Hal Gill also missed some practice time, his reason was he had to get a cut he got beneath his left eye while practicing looked at.
Is Ovechkin having back trouble? A reporter at the Washington-Post reported that Ovechkin was skating up-right most of the time and could have a lower body injury, admittedly I don't watch him play that much, but playing as much hockey as I do, I skate up-right when my lower back is sore. I'm just connecting the dots here.
What does Ovechkin's team think of him? When Ovechkin did his "my stick is to hot to pick up" dance against Tampa Bay earlier in the season, he asked a couple of teammates to join in the preplanned event, they decided last minute not to join him.
A betting place is reporting that the Pens/Caps match up is the second hottest ticket right now to the Kentucky Derby. The odds are even and the Penguins are receiving the most bets.
Don Cherry finally made nice comments about Sidney Crosby, but who cares, he's a bumbling WWF announcer.
And now the stats: The Penguins have won 6 of the 7 playoff series against the Capitals. That's all you need to know.
Good news for the Penguins, Barry Melrose picked his girlfriend Ovechkin's team the Capitals to win the series.
NBC is dropping the national broadcast of the Capital/Penguin game for the Kentucky Derby if it goes more than 1 overtime. Locally in Pittsburgh and Washington it will stay on NBC, but the others around the country will have to switch to Versus.
The top two playoff scorers Evgeni Malkin and Alexander Semin go head to head today.
Gametime is 1PM and can be seen in high definition at Verizon Center or on NBC.