The Pittsburgh Penguins are heading into game 4 of the Stanley Cup finals in the exact way they headed into last years game four, down 2 games to one. The Red Wings won the first two games this year and last year, and this year the Penguins lost game 4.  They need to win it this year, The Penguins Must Change the Script. "we know how big this Game 4 is now.  Because we lost it last year, and it was hard to come back from a 3-1 deficit." said Max Talbot.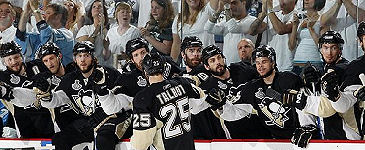 The Penguins need to continue their desperation hockey and continue the all out press while getting every puck and able bodied person to the net. Osgood's save percent was only .85 last game and he let in two goals that were on straight away shots.   They also need to continue blocking shots in the defensive end and continue to short shift and hustle to get back into the play.
How is the 4th highest salary cap paid player in the league Marian the most over rated – over paid player in hockey WHOssa doing so far? He is still without a regular strength goal and he is ranked 44th in the league in points per game these playoffs. 4th highest, 44th ranked, it's all good.
38 year old Billy Guerin is ranked 35th in the league in average points per game these playoffs, and Sidney Crosby has three more points this year so far than he had all of last year when he was on WHOssa's line. The Penguins look like a much better team also. They out shot and out played the Detroit Red Wings so far in and if not for a couple of crazy bounces, could actually be up a game.
Highest rated cable ratings since before the lockout. The Stanley Cup game three was the highest rated show ever on Versus, popping in at a 2.6 rating, it was also the highest rated cable hockey shown hockey game since before the lockout in 2002. Which by the way is back when the games were on ESPN.
The Wings are starting to sweat. Pavel Datsyuk should be in the game for the Wings which should put added pressure on the Penguins defense even though he only has 1 goal and 6 assists in 13 games so far this post season. Chris Osgood who let 3 goals in on only 20 shots had this to say "We've played five games in eight days without Pav, and to me, that's long enough. We've made it this far, but we don't want to take any more chances"
The Pens are looking relaxed. At a press conference while sitting beside Talbot, Malkin joked about Talbot: "He has lot of scoring chance, not score. Just empty net", Billy Guerin was asked if Malkin was a funny guy, he replied "from what Gonch and Fedetenko (the two other Russian speaking players on the team) tell me… Yes, he's extremely funny"
Get rid of your bad apples.  I don't know if there is any truth to this rumour I'm starting:  The Pittsburgh Pirates traded away MLB All-Star outfielder Nate McLouth yesterday because he was a huge Detroit Red Wings fan. 
The Penguin Power Play Rocks! The Pens powerplay is scoring at a 50% rate, 3 out of 6 attempts. Penalty calls are down over 50% this year. Last year the refs called an average of 9.5 penalties a game, this year they have called 4.7 penalties a game. This goes to the stupid old interfere, hold, clutch, grab, you know, "The NHL Let Them Play Mentality"
Krundles Call:  Captain Crosby will be back on the scoring page tonight with a vengence and lead the Penguins to victory!
Maxime "tiki tik ti" Talbot: "This year we're just a little bit more aware. We know we need to win this game"
It's a WHITE OUT!
Game time is 8PM and can be seen in high definition at the Igloo or Versus.