To raise Lord Stanley's silver chalice, all the Penguins need to do is win two games in a row.
They have won two games in a row 18 times already this season including once already against Detroit a few days ago. They have already played a "must win or your playoffs are over" game and won it fairly easily, and they have already played in this exact elimination scenario last year on June 4th. This team has what it takes, this team knows what it takes, and one tiny burp of a lopsided game hasn't swayed how hard they will be playing to win.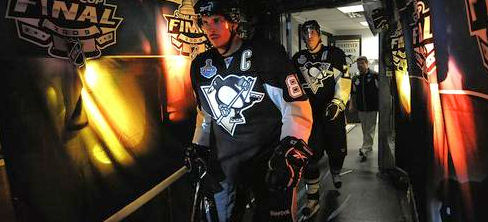 In 1960 the Pittsburgh Pirates were taking on the New York Yankees in what everyone thought was going to be an easy four game sweep for the Yankees. In game 2 and 3 the Pirates lost 16-3 and 10-0. In game four the Pirates won 3-2 and in game five the pirates won 5-2. It doesn't matter how big a win or loss was when it goes in the win/loss column.
The fact is that the home match-ups have been the deciding factor in all of these games, which is why home teams have scored 43% of all of the playoff goals during the second period when the teams have to travel the furthest for a line change.  The Penguins must take advantage of this tonight, and the louder the fans the less chance the other team has of making their changes.
When that puck drops at 8PM tonight we have to be loud, we must not let the team down. If Detroit scores a goal, we must start the "LET'S GO PENS" while they are celebrating, don't let the team get down, the adrenaline rush the players get could be the difference, so get your rally caps on, break out your lucky charm, wear your lucky Jersey, do whatever it takes to create good karma and lube up those vocal chords with your beverage of choice, because the team needs us tonight.
LET'S GO PENS – SO SAY WE ALL!
The Penguins WILL win tonight and take the series back to Detroit for game seven.
It's another Whiteout!
Kunitz: "Our guys don't ever think that we're down and out"
Talbot: "Everybody is loose, ready and focused."
Fleury: "it's not over and I am looking forward to a Game 7"
Captain Crosby: "we're going to bounce back, we have all year."
Game time is 8PM and can be seen in high definition inside the Igloo or on NBC but not outside on the big screen at the Igloo because NBC SUCKS!