At a few minutes after 8pm tonight, a puck will be dropped inside the Joe Lewis Arena in downtown Detroit and the hopes and aspirations of 40 NHLers and millions of fans will be riding on a 60 minute battle to the end. All bets will be off. Lord Stanley's Cup will be polished behind the scenes, fans from both cities will be figuring out the best place to celebrate the win, and every player whose skate touches the ice will use every ounce of ability in their body in a quest for something every hockey player fought all season for. It all comes down to this game. Are you ready?
This game is going to be off the Richter Scale. This is Crosby vs Zetterberg, this is Fleury vs Osgood, this is the leagues top scorer Evgeni Malkin versus anyone who comes in his way. This is where the stars shine, and the Penguins have the two brightest. The Red Wings have only lost one game at home this playoff season and the Penguins plan on doubling that total by the time it is all said and done. The Penguins have proven their game seven mettle already this playoff year by easily offing the Capitals on their home ice.
Here is a list of four things the Penguins need to do to win:
Take slap shots.  The Penguin wingers have been tossing slow wristers at Osgood, this is the only reason he has a high save percentage, the guy stinks. When you are up top in their zone, fire away! This will also create more rebounds.
Block shots.  Every single player on the team must throw themselves in front of the 6 ounces of granulized rubber that make up an NHL puck, they have all summer to recuperate. If Crosby and Malkin do it, the rest will follow. The team with the most heart wins, you have to lay it all on the line.
Make it happen. Crosby and Malkin have more skill in their pinky than most… you get the picture. These two must not be afraid to perform their magic on the Detroit defensive corps. If Staal can make a move on them, I'm sure Crosby and Malkin can. Detroit's defense will be a bit more nervous than usual, and having our stars show the razzle dazzle they haven't shown all series will be the clincher.
All out attack.  Dictate the game, they have the speed and talent, just use it.
Petr Sykora will not be playing.  The media can beat around the bush all they like, but Sykora is on crutches, there is no way that Bylsma takes a chance putting him in when Satan has been filling in for a healthy Sykora most of the playoffs anyway.
The Penguins 106th game this season. The Penguins have played 4 games less than the maximum amount of games allowed to be played in one season, 110, set by the NHL.
Did Bylsma do it on purpose? The chess game between Bylsma and Babcock has been one for the ages. You would think that in a must win game scenario Captain Crosby's ice time would be maximized. Instead it was minimized from an average of 21 plus minutes to just below 18 minutes last game. Lowering Crosby's minutes allowed Bylsma to get Crosby's line off the ice as soon as Babcock matched up the Zetterberg line. Viswanathan Anand would be so proud.
Click here for: "Everything you need to know about Game 7 — really "
Once again get your rally caps on.  Break out your lucky charm, wear your lucky Jersey, do every superstitious thing you did last game, do whatever it takes to create good karma and be ready for what will be the Penguins greatest game ever.
If you can, get to the game in Detroit like these four fellows in front of Hockeytown Cafe did and support your team: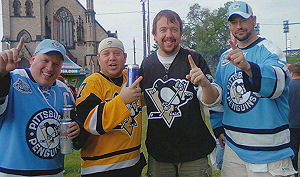 The Penguins will win and bring Lord Stanley's Cup to it's rightful home in the 'burgh!
LET'S GO PENS.
Fedotenko: "It's a great feeling to be back in a Game 7 in the Stanley Cup Final, you can't find a truer test"
Captain Crosby: "now it's anyone's game and it's going to be a great challenge… we've got to battle and find a way to pull it off."
Malkin: "The Cup is all I want.   I will give 120 percent.   I will give everything."
Both teams have talked the talk.  It's time to walk the walk. If you miss this one, shame on you for the rest of the summer!
Game time is 8PM and can be seen in high definition at Joe Lewis Arena or on NBC,  but not outside at the Igloo.