This is it! At 7pm tonight the Sidney Crosby versus Alexander Ovechkin match up the NHL has been blabbing about for 3 years comes to a head. Toss an Evgeni Malkin and Simyon Varlamov into the mix and you have an combination so explosive that if you have a heart condition, you may want to sit this one out.  Five of the first 6 games were decided by only one goal, and 3 of those in overtime.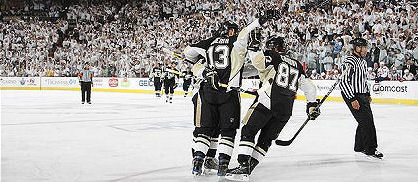 NHL.com columnist John McGourty already has this series as one of the 6 all-time epic NHL playoff series going all the way back to 1942: click here to read the article: "Caps-Pens ready to join NHL's other 7-game epics" 
On top of all that, this is Sidney Crosby and Evgeni Malkin's first game seven in the NHL, it's not just Crosby's first in the NHL, but in any league he's ever played in.  Alexander Ovechkin has already played in two game sevens, going 1-1, losing to the Flyers last year and beating the Rangers this year.   Simyon Varlamov will be playing in his second game seven, he is 1-0.
And as far as the Penguins being able to close a series out in an inhospitable place is concerned, the Penguins just did it in Philadelphia, and that place might be considered a little bit inhospitable.
The Gonchar Question:   Gonchar practiced with the team yesterday, and said he was having a bit of trouble pushing off with his injured leg, but other than that felt fine. He said that he will make a game time decision depending on how he feels.  Dan Bylsma said "He (Gonchar) looked good today, and it's promising."
How many defensemen for the Pens?:   If it were up to me,  I'm only playing 6 defensemen, I don't really care if it's Boucher, Goligoski or Gonchar. The team needs Pascal Dupuis back in the line up. Dupuis' fore checking ability tires out the other teams, and forces the defense to play a little more conservative because of his speed, plus I'm sure he wants to prove something.
And now for the bad news:   The WBS Penguins were knocked out of the playoffs in game 7 last night by the Washington Capitals minor league team the Hershey Bears. To make it worse the minor league team matched the Penguins / Capitals record win for win, the Bears & Capitals won the first two games, the WBS Penguins & Pittsburgh Penguins won the next three, then the Bears & Washington won game 6. The Bears won game seven, hopefully the Pittsburgh team breaks that chain of events, today is the 13th you know.
I'm not saying, I'm just saying:   The powerplay with Alex Goligoski on it has scored 3 out of 7 times running at 42.8%.  With Gonchar at the point it is at 14.6% converting 7 of 48 opportunities. I would still take Gonchar, but it would seem the Penguins rely on him to shoot to much, everybody shoots, everybody wins.
TV Ratings:   FSN Pittsburgh set their all time ratings record Monday night drawing a 24.2 rating in Pittsburgh higher than any other broadcast in their history and for any other FSN region.
Quick Quotes:
Ovechkin: "In Pittsburgh, in their stadium you can see 'It's a great day for hockey', Tomorrow is going to be a great day to play hockey."
Sidney Crosby: "I've watched a lot of Game 7s, but this will be my first one" , "Somebody is going home."
Game 7 is at 7 and can be seen in high definition at both the Verizon Center and on FSN Pittsburgh