If the playoffs started today, we would be playing Philadelphia.? We are playing Philadelphia today at 12:30 PM.? It is not the playoffs.
Hockey Night in Canada reported that there was a phone disciplinary hearing between Colin Cambell & Evgeni Malkin over Malkins collision with the Kings Wayne Simmonds.? Idiot reporters like Pierre Lebrun of Hockey Night are calling it a "cheap shot".? What Malkin was guilty of, was bracing for hit.? If Lebrun had actually watched the game, which I would bet a million dollars he didn't, he would have seen the Kings Raitis Ivanans elbow up in the air swipe at Malkins head, Jarret Stoll getting a 2 minute interference penalty for his intent to injure cross check to Sidney Crosby and Jack Johnson's mugging of Malkin, and that was just the first period.?
In the two pictures below (sorry for the poor quality), Malkin never left his feet or raised his elbow from his side.? Simmonds had his head down and skated head first into Malkin's elbow the puck is right there, this is 100% a perfectly clean hit.? Lebrun needs to "Go have another Donut".? Mike Milbury will stick up for Malkin on NBC today.

If the NHL looks at anything, they should look at Terry Murray sending his players out to purposely injure and intimidate the Penguin's star players early in the game.? Murray was a broad street bully back in the 70's, that's the only way he knows, if Murray knew how to coach he wouldn't have to result to that.??
Philippe Boucher has been taken off of the injured reserve by the Pittsburgh Penguins.? The problem is that the Penguins have been winning like crazy, but I'm sure Bylsma would like to get Boucher some playing time.? With Boucher's right handed shot, he would fit in nice on the first or second power play.? Two years ago Boucher had a career high 19 goals in a season with Dallas.? As a side note, Dan Bylsma played for five seasons, from 1995-2000, along side Boucher on the L.A. Kings.
Briere is back and healthy and netted two goals for Philadelphia in their win over Buffalo on Friday.? Philadelphia did commit 10 penalties in the first two periods against Buffalo and the way the Pens power play is finally starting to work, look out.? Philly defenseman Randy Jones, out with a hip injury will be a game time decision.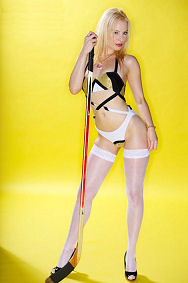 The Penguin Patrol's new uniforms???I could only hope so.? The "Ice Girls" calendar is now half off at: Ice Girls Calendar? and don't forget, 1 dollar of every calendar purchase goes to "Hockey Fights Cancer". ?Pamela – Miss Pittsburgh was November 2008's page, the calendar runs from November 2008 to November 2009.
Miroslav Satan is slowly wearing out his welcome.? In the last two WBS Penguin games Satan has not registered a point and is a -2 in back to back losses. This is a guy making 3.5 million playing in the minor leagues, if you can't make it there, you can't make it anywhere, it's up to you, Wilkes-Barre/Scranton, Wilkes-Barre/Scranton.
The "Bring Back Mike Lange" site, www.bringbackmike.com, looks like it is down for the count.? Does this mean no one is interested in Mike Lange doing TV anymore?? That didn't last long.? I'm starting a site called "Bring?Mike Lange back to TV to be Paul Steigerwald's color commentator not the play by play guy.com"? I think it would be a great site.
Gametime is 12:30 pm and can be seen in HD at Igloo or at home (on NBC).