If Petr Sykora scores the game winning goal in a forest, would anyone hear it?? Among the fanfare of Chris Kunitz's imaginary hatrick and Crosby's 3 assists on Sunday, Sykora scored his team leading 9th game winning goal.? How good is 9 game winning goals?for the Penguins?? If you add up all the game winning goals that Malkin, Crosby and Staal have this year, you would still need two more game winning goals to equal Sykora's.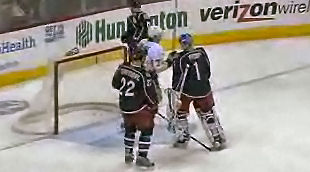 Evgeni Malkin left practice early yesterday because of an illness that he reportedly has had all weekend.? The detectives at PenguinPoop know what he has and how he got it.??We are pretty sure that Malkin got the flu from Columbus goaltender Steve Mason.? During last Thursdays game against Columbus, Malkin ran the goaltender twice, once getting a goaltender interference penalty and once getting Mason's flu.? Mason sat out that mornings practice with a flu like symptoms.
Malkin is planning on being in the lineup for tonights game.
Satan debuted for the WBS Penguins Last night and netted a powerplay goal and 3 assists, in the Penguins drowning of the River Rats 7-2. "He's come with a great work ethic and attitude," Reirden said. "He's been great around our guys. He's had some long skating sessions with me already and the younger guys have come out and watched him and were like, 'Whoa. He's working at it.' It's a credit to him. It's obviously not an easy situation."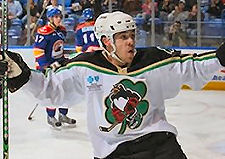 Wednesday night the WBS Penguins will be wearing their annual St. Patricks Day jerseys, make sure to get in the auction after the game to win your very own (most likely one of a kind) St. Patrick/Satan jersey.? Perfect for wearing while having that St. Patricks hangover.
Congatulations to Sidney Crosby, the NHL's number 3 star last week. Crosby's 11 points in 6 games since returning from a groin injury is nothing for Malkin to sneeze at, while Malkin is sick, Crosby is gaining on Malkin in the race for the Art Ross Trophy.? Malkin is in first with 97pts – Crosby is second with 90.
Congratulations to Janne Pesonen who set the WBS Penguins record for most points ever in a season last night, he now has 24 goals and 44 assists for a total of 68 points.? They have 12 games left on their schedule.? Who held the previous record you ask, none other than Toby Petersen.? Give yourself 2 PenguinPoop points if you got that one correct.
If the NHL Playoffs started today, the Penguins would be playing the Flyers, and you would probably be wondering why it says Atlanta on the schedule.
Colby Armstrong doesn't need Crosby!? With a goal last night, Colby this season already has 17 goals, more goals he has ever had in a season on Sydney Crosby's line.? Jordan Staal has 5 goals 4 assist's in the 13 games Bylsma has coached, I wonder how Colby would do in this aggressive system.
Atlanta should be tired from last nights game against Washington even though Washington didn't put up a fight.? Johan "da Moose" Hedberg will be in goal tonight for the Thrashers. Gametime is 7:30 pm and can be seen in HD at Igloo or at home.