Miroslav Satan has agreed to play for the WBS Penguins and will be practicing with them today. The Penguins currently cannot put Satan on re-entry waivers without going over the salary cap and would be responsible for 1/2 or $1.75 million of his salary against the cap. The only way Satan will see the NHL again before the playoffs is if the Penguins put a player on long term injury reserve.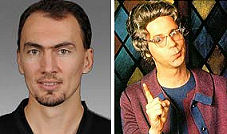 If there is absolutely no truth to the rumor that the Penguins sent Satan down to help pay the 31 million dollars they are over budget on building the new Colsol Energy Center, why did they announce it at church?
Speaking of the WBS Penguins, Janne Pesonen had a goal and 4 assists last night and is currently #1 on the team in scoring and 9th in the AHL in scoring, even though he has played less games because of being called up.
Though Boucher & Sykora both took to the ice after practice yesterday, both are expected to be out of the lineup for Tonight's game. Probably for the first time this year, the lineup is expected to be exactly the same as the last game. Is Bylsma trying to build chemistry or something?
Tonight is Bylsma's all out offense against Hitchcock's all out trap defense. Columbus shut out the #1 Boston squad last game. We will really get a chance to see if the Penguins can dictate the flow of the game. The Penguins might face Steve Mason who has a cold and will be a gametime decision, he has 4 of his league leading 9 shutouts at home.? Don't write off Fleury who is riding a career best 7 game winning streak.
Get that split screen picture in picture set up! Tonight's 7PM FSN game time has the same game time start as the Pitt – WVU Big East tournament game on ESPN.