With all of the rumors floating about us getting a winger? the Colby Armstrong one is the most likely to make me vomit.
But, what is the best way to go about getting that winger (we all know we need) without TANKING a season? For sure that would be to make a trade. But who do we trade and who do we get back?
Many blogs suggest that Jordan Staal be involved. I?d like to go on record that trading Staal would be nuts. This kid is just 20 years old and has the potential to be a real super-star stud and if Shero has his smarts about him (which I think he does) Staal should be completely off limits. He still may end-up being the best player taken in that draft.
So, where do we go and what do we do?
First, let?s review were our money is. At present we have 39% of the total Salary cap hit or a $21.870 mil cap hit coming from our defensemen. Twenty-eight percent of that ($21.870) coming from Gonchar alone. That's looks pretty bad except for the fact that another 28% come from Eaton, Gill, and Boucher. And, 38% from Whitney and Orpik. The remainder, 6%… is collected by Scuderi, Letang and Goligoski. Out of all of these under contract Eaton?s is probably the only one he wouldn?t do over again.
Looking at the salary distribution it could be fairly well determined that either Gonchar or Whitney would be the 'best athlete available' for trade. Particularly Whitney, because of Gonchar being injured, but also because Whitney being signed through 2013, younger, and considered to be one of the better puck moving defenseman in the NHL.
An obvious question is – if traded… can Goligoski and/or Letang fill Whitney's spot until Gonchar returns, if he returns this year and can play up to the level of Gonchar last season. And, if traded could Whitney get a return of a winger with enough skill to play on Crosby's line and enough pizzazz to play in front of the net during a PP.
I have a suggestion with some sound reasoning to back it up. One of the teams who really need a puck moving defenseman is Edmonton. Even though 4 out of their 8 leading scorers are defensemen they have a tough time getting the puck out of their own end. This is where Whitney would be an asset. And, as in any trade (unless your in a fantasy league ? where the goal is to screw other teams) a trade in the NHL has to be perceived as a ?win-win? situation.
For that reason, I?m suggesting that the return be Dustin Penner. Penner was the talk of the town when he broke into the NHL on the ?Kid?s Line? of Getzlaf and Perry, finished 2nd in scoring and got his name on the Stanley Cup and then became the center of a battle of words between Burke and Lowe and the Ducks let him go.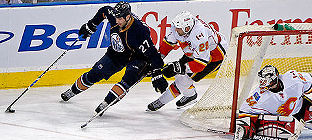 Craig MacTavish was brutally critical of Penner by saying, "He's not competitive enough or fit enough to help us, so why put him back in? He's never been fit enough to help us. "We signed him to be a top-two line player and that's kind of where it ended. The difference was we thought the contract was a starting point, and he's viewed it as a finish line. "It's been one thing after another. I can't watch it for – certainly not another two and-a-half years."
Pretty tough love there? IMHO MacTavish is best known for being the last to play without a helmet. What his comments do is also lower his value on the market. The key here is Whitney?s worth to the Oilers plus Penner?s worth for the Oilers to rid themselves of him.
I would guess that Whitney to the Oilers for Penner along with a second or third round pick might do the deal. And, Penner, at 6?-4, 245, could be (emphasis on could) the LW on Crosby?s line for a long time. A bit of a risk but could develop into on of the best power forwards playing on Crosby?s line.
This is DR Hook?.. carry on.