With Tyler Kennedy getting a one-game suspension for leaving the bench to fight Luke Schenn the Penguins call up Luca Cuputi for a look-see. With WB/S, Caputi has 30 points in his last 28 games (13 goals and 22 assists in 46) and here?s the chance to see if this young, skilled, offensive winger can fit a team with major center overload.
The key here is that Coach Mike treat him differently than that of Janne Pesonen?s stint here. That is, sticking him on a checking line and giving him pretty much no ice time with Crosby or Malkin.
Of course it could very well be that Pesonen doesn?t have the grit necessary at the NHL level and sometimes you have to think the coaches know more than we do.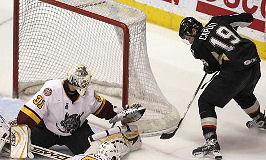 Tonight?s game has Robert Lang out? Cary Price is struggling on a 1-4-0 in last 6 games? Alex Kovalev sat by Carbonneau for a attitude during a game and plays only 3 shifts? Guillaume Latendresse may be out with an injury and the HABS call-up D, Alex Henry. I wonder what they are thinking for toight?s game, eh.
Paul Bissonnette was sent down? maybe they should have kept him up for just one more game.
Other Penguin news is that Sergei Gonchar practiced without the 'no contact' jersey for the first time on yesterday.
This is DR Hook…. carry on