More and more information is coming out about coach "Hockey Dan". Like the four books that he has written with his dad Jay Bylsma.

You can read about and purchase teh books on Amazon.com  Click Below.
He also runs a hockey camp in Minnesota. He was know as a selfless penalty killer in his time with the Mighty Ducks enough that he was given a large "A" to put on his jersey.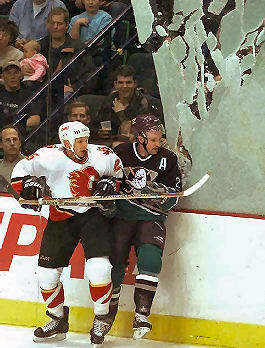 Which brings me to his news conference yesterday. Hockey Dan & Tom Fitzgerald will be taking care of the penalty kill. The penalty kill has been fine, do we need two people working on something that doen't need fixed? How about the power play & Mike Yeo? "I'm real comfortable with Mike. He's a hard-working guy, a passionate guy. He fits right along the lines with me and how I am. So I'm real comfortable with that situation. He'll continue to do that power play. He will be moved to the defenseman, as you saw" So on top of continuing to run the power play into the ground Hockey Dan has given Yeo the additional control of the defensemen? It would seem (or I hope) that Hockey Dan may be slowly moving Yeo over to work with the defensemen and away from the power play, without upsetting the apple cart.
Here's hoping Hockey Dan's passion for the game spills over onto the players the way Bill Cowher's did.  I have seen him smile,  I'm not sure I've ever seen Therrien smile, maybe he can stick his jaw out also.