Here we are off to the JLA… and really – why the heck are we so happy?
Our Flightless Birdies are 0 for 3 there.

Crosby is a MINUS 3 and no points in those games.

Our late season additions Guerin and Kunitz combined have ZIPPO points and are a combined MINUS 4.

Someone must have done something there, right… yet Gonchar also has zero points.

And Staal? He's followed suit too, with no friggin points.

Fleury is holding down a healthy 4.33 GAA and a .857 SV% isn't bringing a bundle of confidence either.                                     
So why is everyone so happy?
I'm thinking most Pittsburghers now believe in the HOSSA JINX.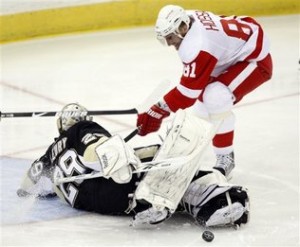 Maid-Marian is about to become a legend in hockey history by jumping teams under the guise that he wanted his name on the Stanley Cup. He's now not much more than a mercenary who may want his name on the Cup but not as much as he wanted the Seven Million Four Hundred and Fifty Thousand Dollars which was first and foremost on his mind.
If you think he's playing like he wants his name on the Stanley Cup… your dreaming. I'm sure it's now crossing the mind of Red Wing teammates who have to be are wondering if he's just along for the ride.
Two members posting here (PENZRGR8 and Boombastic) have said it best…                                                                                                                                           Pittsburgh goes to Detroit to win titles and,  there will be a Hossa Line (like the Mendosa Line) fitting for players like Joe Thorton who put numbers up in the regular season but totally poop-out under the pressure of the playoffs.
The HOSSA JINX and the HOSSA LINE… that why we are smiling like the butcher's dog. 
Game 7 isn't in the bag… but you can smell it, can't you.
This is DR Hook… carry on